Spring is one of the best times of the year to visit the Smoky Mountains! At CLIMB Works, we love the idea of going outside, being active and breathing in the fresh mountain air. When the weather is nice, there is no better place to be than in the Smoky Mountains. To help you make the most of your time during your visit, we've come up with 4 of the best things to do in the Smoky Mountains in the spring.
1. Go on Our Zipline Canopy Tour
At CLIMB Works, we have an incredible ziplining experience you have to try! For 2.5 hours, you'll coast through the air on 9 world-class ziplines. You'll soar through the trees and see the Smoky Mountains like you never have before. Not only will you get to zipline during the canopy tour, but you'll get to ride an ATV and cross 3 sky bridges! The goal of our canopy tour is to push you out of your comfort zone for an unforgettable experience.
2. Go Mountain Biking
In addition to ziplining, we offer mountain biking! There's nothing quite like riding down the 2-mile loop through the mountains on a nice spring day in the Smoky Mountains. Our mountain biking trail is considered intermediate, but you don't have to have experience to have a good time. Our bike experts are here to help offer pointers and make sure you have a safe and enjoyable experience. If you have your own bike, feel free to bring it, but we also offer Trek mountain bike rentals that are designed to increase stability and control for men and women.
3. Go Whitewater Rafting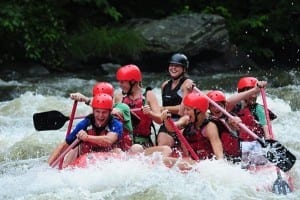 Another great activity to try during the spring is whitewater rafting! When you go whitewater rafting with Smoky Mountain Outdoors, you're guaranteed to have a great time. Coast down the Pigeon River and over the rapids for an exciting adventure that will get your heart-pumping and put smiles on your faces! Rafting is the perfect activity for families or groups visiting the Smoky Mountains. We recommend getting one of our adventure packages so you can enjoy both our zipline canopy tour or mountain biking and their rafting trip!
4. Go Hiking
What would a trip to the Smoky Mountains be without going hiking? Hiking is one of the best ways to enjoy the spring season. The Smoky Mountains are home to more than 1,500 kinds of wildflowers, and during the spring, they all start to bloom! When you go for a hike, you'll have the chance to see the gorgeous wildflowers, waterfalls, wildlife and more. The Great Smoky Mountains National Park has more than 850 miles of hiking trails for you to explore. One of the most popular trails in the park during the spring is Porters Creek, where you can see beautiful views of the wildflowers.
Try all of these amazing things to to do in the Smoky Mountains when you visit this spring! Learn more about our mission and the experience you'll have at CLIMB Works, and start planning what to do during your trip.