"

Would do it again in a heartbeat.
– NorthStar597274, TripAdvisor
Treetop ZIPLINE TOUR
Our Treetop Zipline Tour, a true treetop canopy tour, consists of 9 world-class ziplines, unique sky bridges, a fun ATV adventure to the top, and a fun, controlled rappel at the end – making this the ultimate Smoky Mountain experience. Soaring tree to tree, you'll see why the Great Smoky Mountain National Park is the most visited national park in the country.
Duration: 2-2.5 hours tour (water provide along the way)
Restrictions: Ages 7+; Weight max of 250-270 lbs depending on height
Level of Difficulty: Easy
Play Video
Watch a video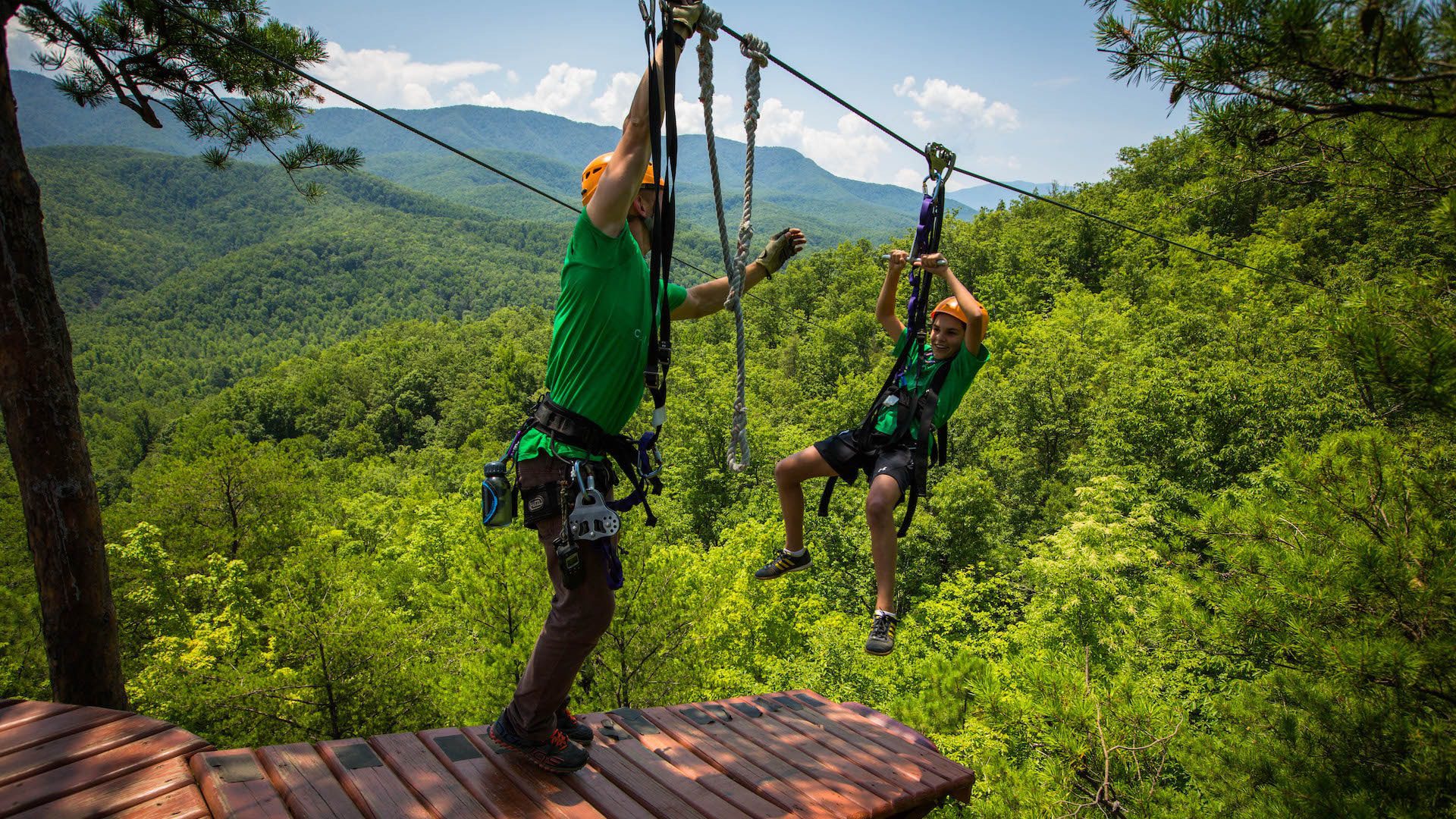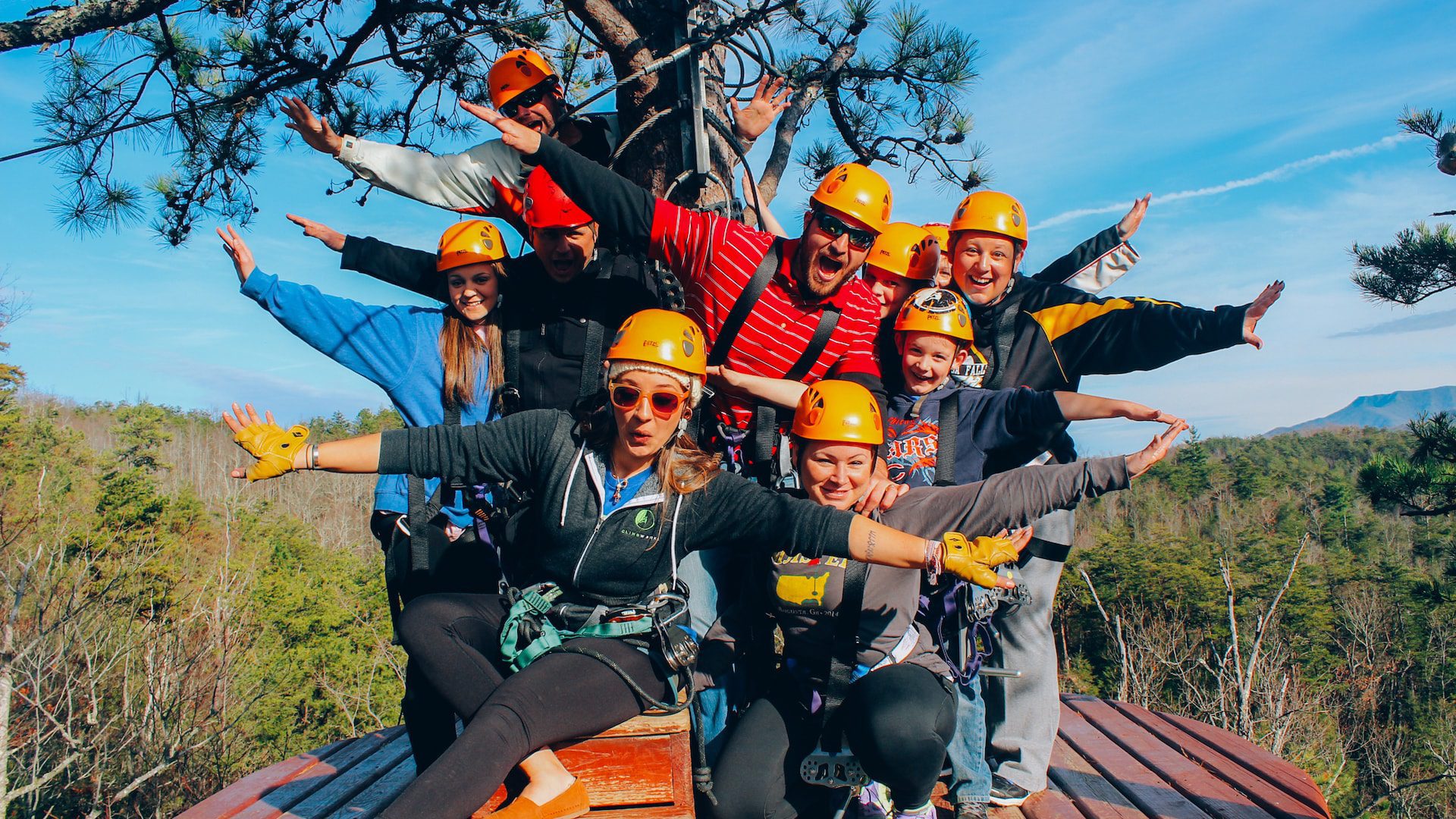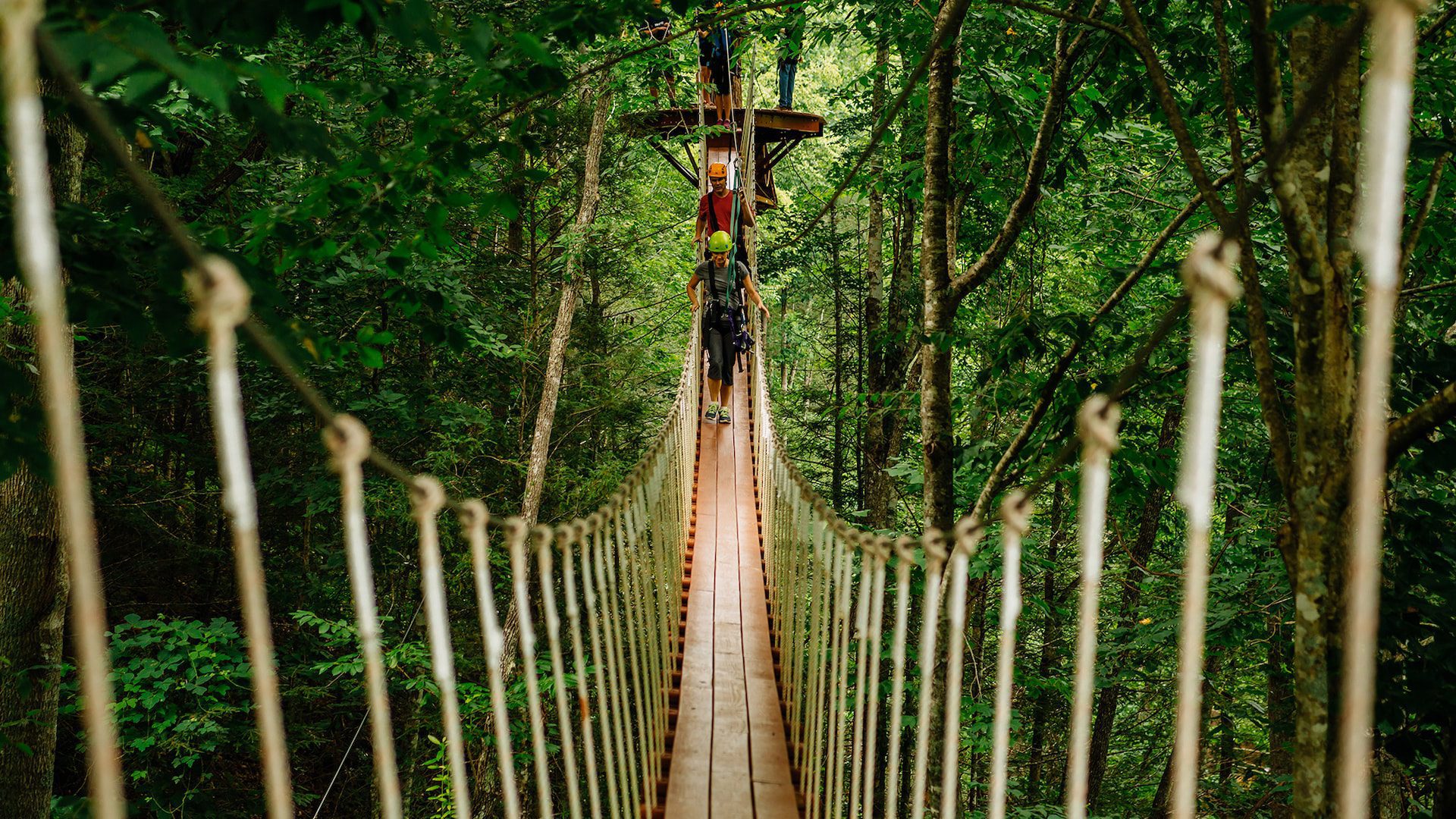 #1 RATED ZIPLINE IN TENNESSEE 12 YEARS IN A ROW

Over
5,000

online reviews.
What's included in the Treetop zipline tour?
14 Unique Adventures
9 WORLD-CLASS ZIPLINES
Once you take that first step onto our beautifully constructed tour, your feet won't touch the ground for 2.5 hours as each zipline starts in one tree and ends in another. Without a house or road in sight, you'll soar over large ravines, trees, streams and – with a little luck – wildlife.
3 SKY BRIDGES AND FUN ENDING
Take in the scenery while traversing over 3 sky bridges and finishing the course with our fun, controlled rappel. You'll always be hooked in to the course so you only have to worry about having a great time.
ATV RIDE TO THE TOP
Start the tour off with an ATV ride (6 passenger) up the mountainside where you'll gain 400 vertical feet over a half mile.
Play Video
Watch Video
Gorgeous Views of the Smokies
A BIRD'S EYE VIEW
Because you'll never leave the trees the entire tour, you'll have a bird's eye view of what makes the Smokies so unique. Enjoy panoramic views of one of the most beautiful places on earth.
MORE THAN A LOOKOUT
To keep things interesting, all 9 lines differ in views, length, height and experience, providing an opportunity to get up close and personal with the Smokies while still enjoying "lookout" views.
Learn about the national park
LEARN ABOUT THE SMOKIES
The Great Smoky Mountain National Park is the most visited national park in the country, seeing twice as many visitors as the second most visited. Through educational plaques and your guides, you'll learn about the National Park and what makes the Smokies so cool throughout your tour.
RIGHT ACROSS THE STREET
We are literally right across the street and surrounded on 3 sides by the Great Smoky Mountain National Park. With good conditions and a better arm, you could throw a rock into the Park. This all makes sense if you look at the map!
Unmatched in quality & Safety
EASY FOR THE GUEST
You will NOT be required to "hand brake" or drag yourself over spans of cable. With a carefully designed course and innovative braking system, our expert staff will take care of you from start to finish. You just have to worry about having a great time.
OUR PHILOSOPHY
Everything we do is built upon the belief that "customer experience" trumps everything; that there is nothing more important than to provide a safe and quality experience. You'll see our attention to detail in our booking and check-in process, our course design and construction, and our excellent guides.
NATIONAL LEADER
With years of experience building and operating courses around the country from New York to Hawaii, we can truly offer an experience that is unmatched in quality and safety.
Treetop Zipline Tour
$89

per person

– 2.5-hour guided tour
– 9 ziplines
– 3 sky bridges
– Fun, controlled rappel
– Gorgeous views of the Great Smoky Mountain National Park
– ATV ride to the top
– Educational tour about the biology of the Smokies