"

If I could give CLIMB Works and their staff 10 stars, I would.
– Andrea, TripAdvisor
MOUNTAIN E-BIKING
We provide the trail, the e-bikes, and the experience.
We offer the only true mountain biking in Gatlinburg and the only E-Bike tour in the Smokies. We provide everything for you – including a guided, instructional first loop – so you just need to show up ready for an adventure.
What is an E-Bike?
A full-suspension mountain bike with electric pedal-assist that allows you to tackle any uphill with ease. Don't let the uphill slow you down!
Duration: 2-hour trail pass (water provide along the way)
Restrictions: Ages 11+, Max Weight: 250 lbs., Min Height: 4'8″
Level of Difficulty: Intermediate
Watch a video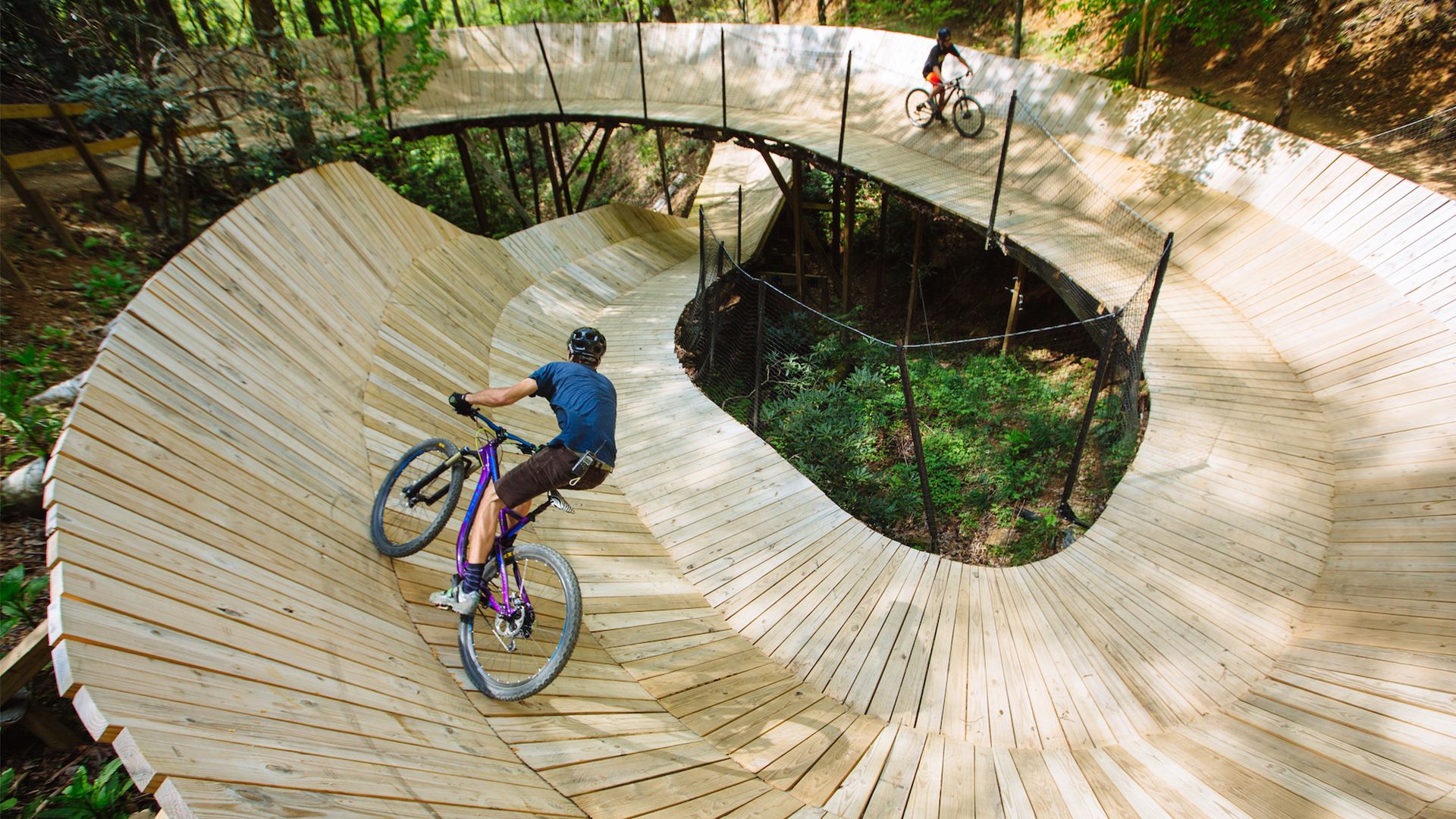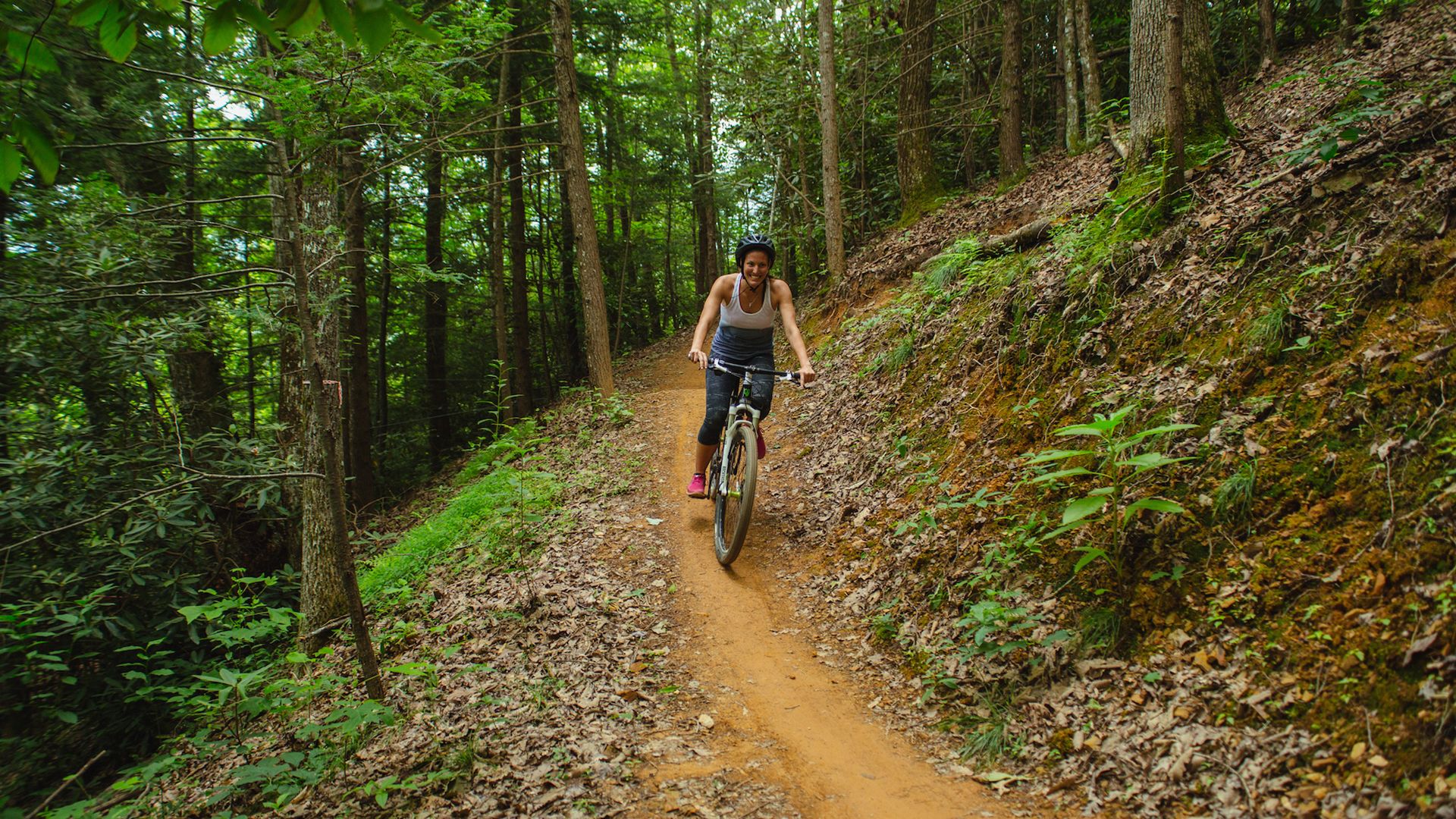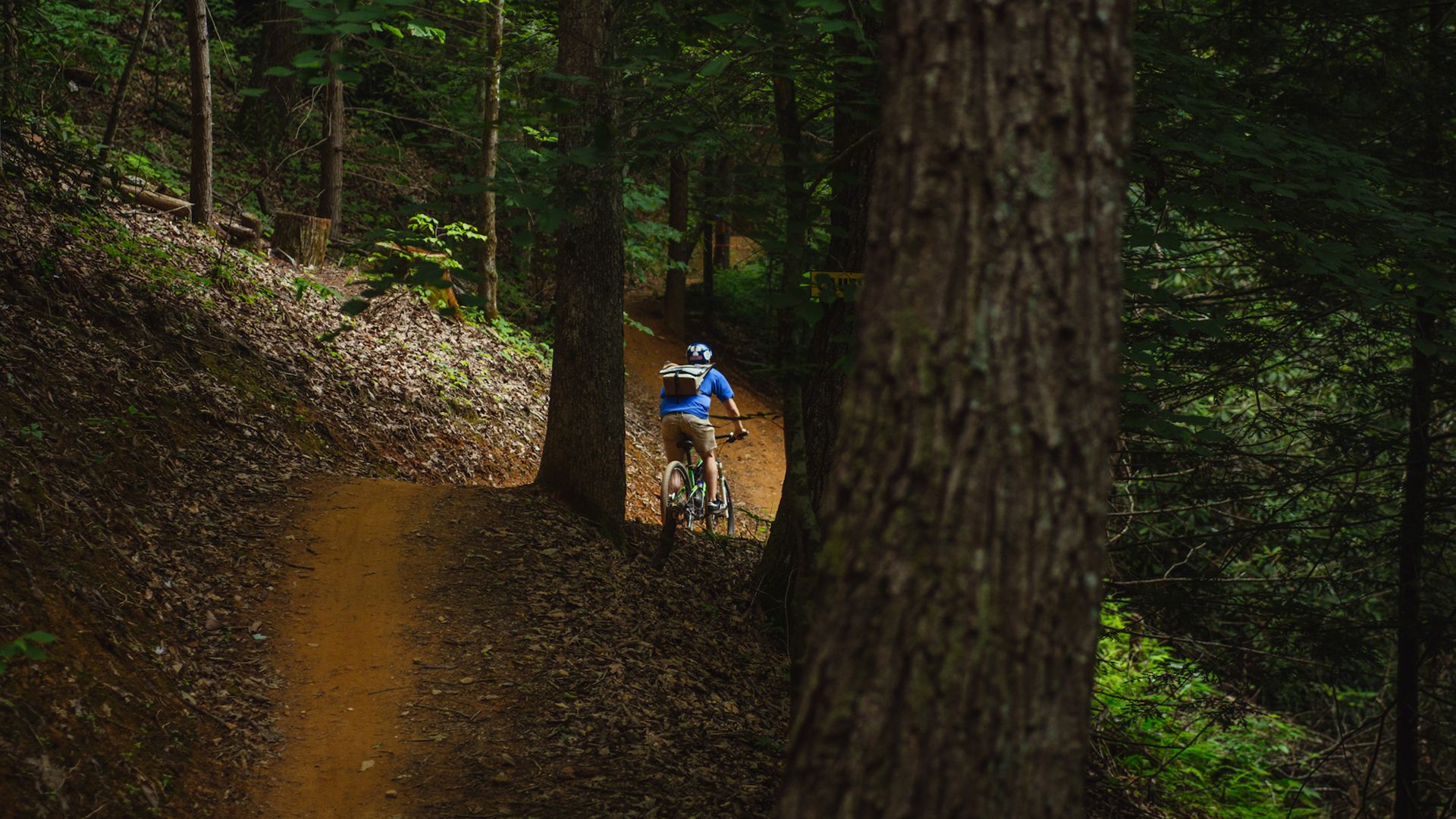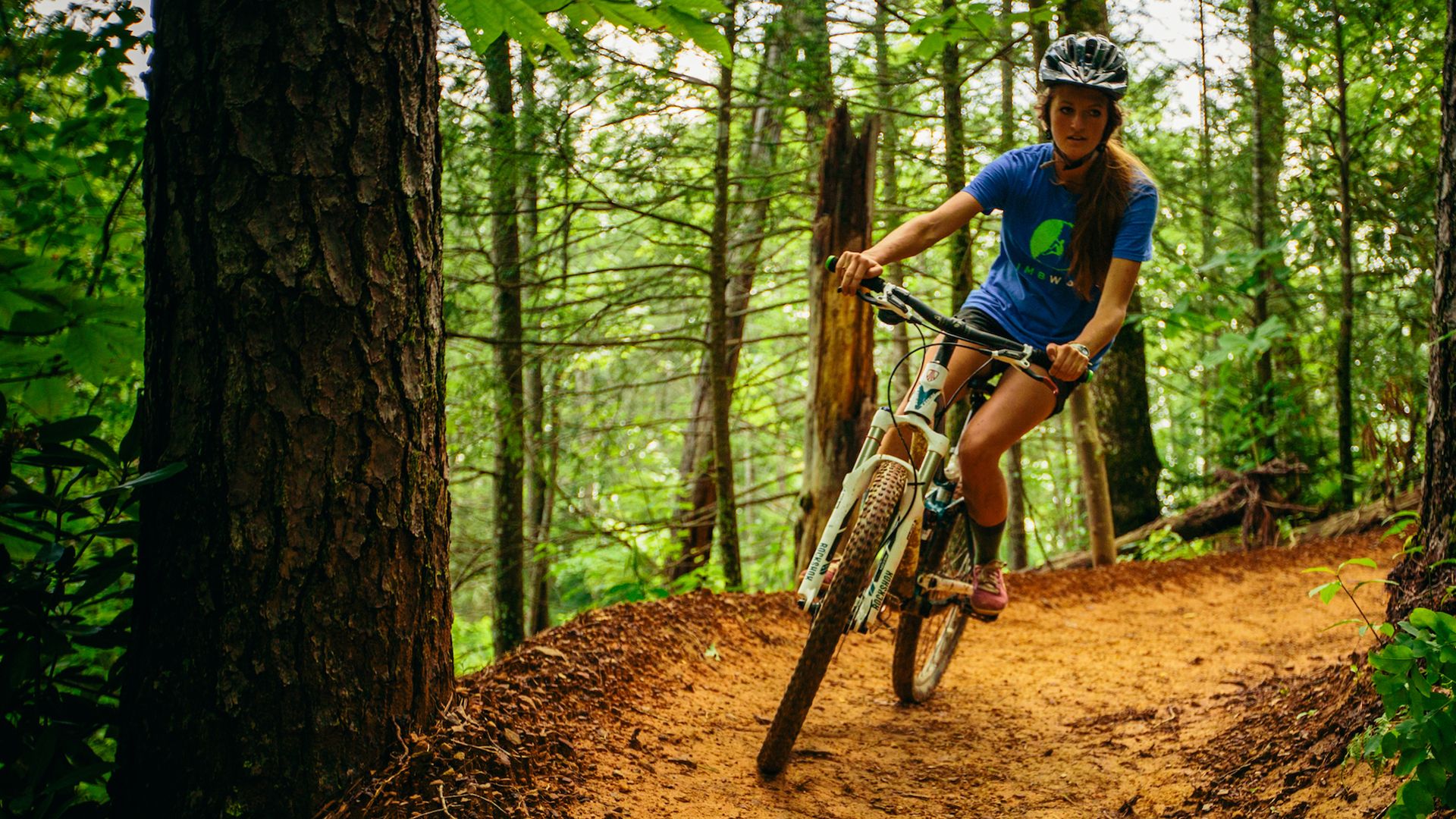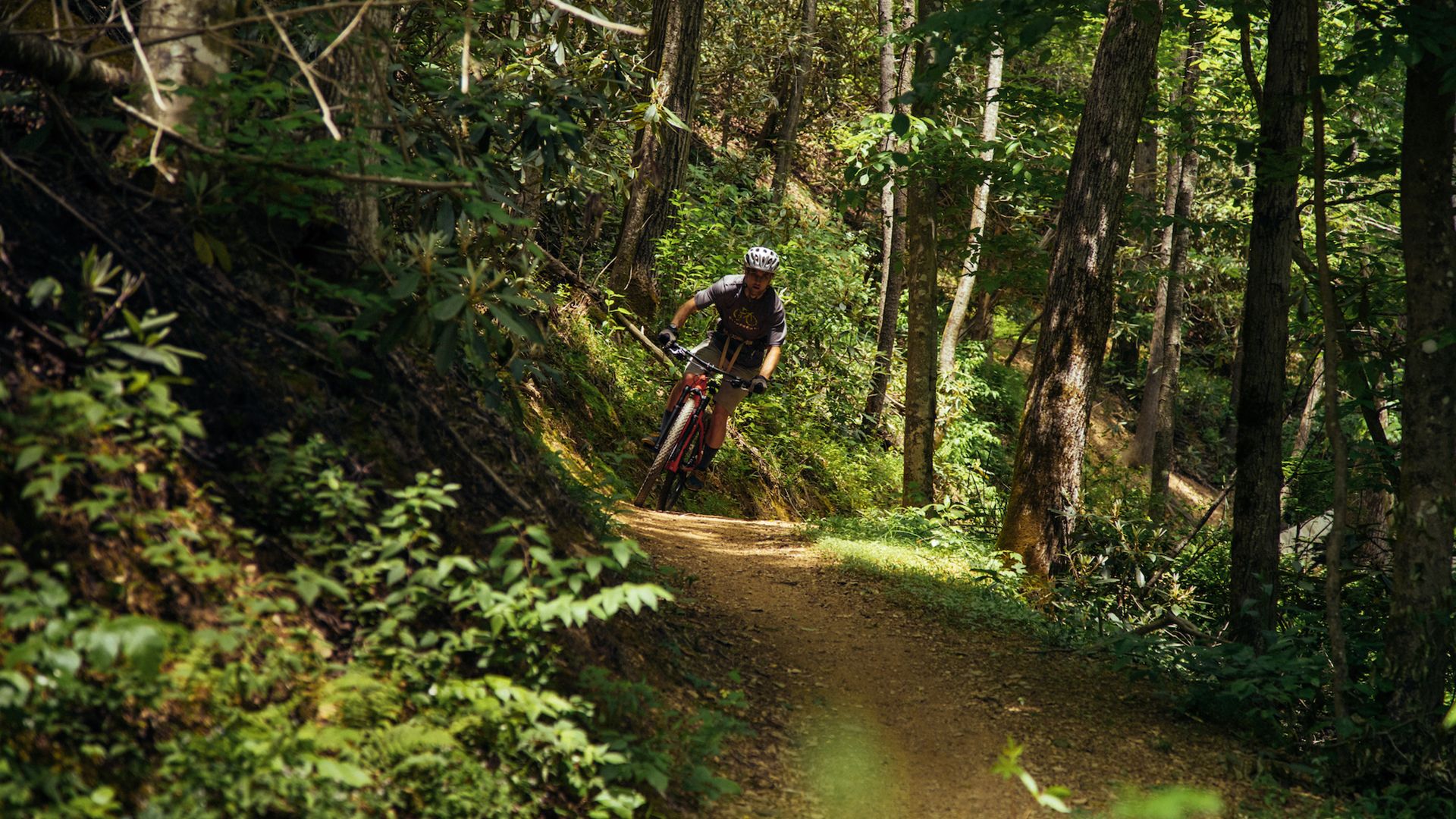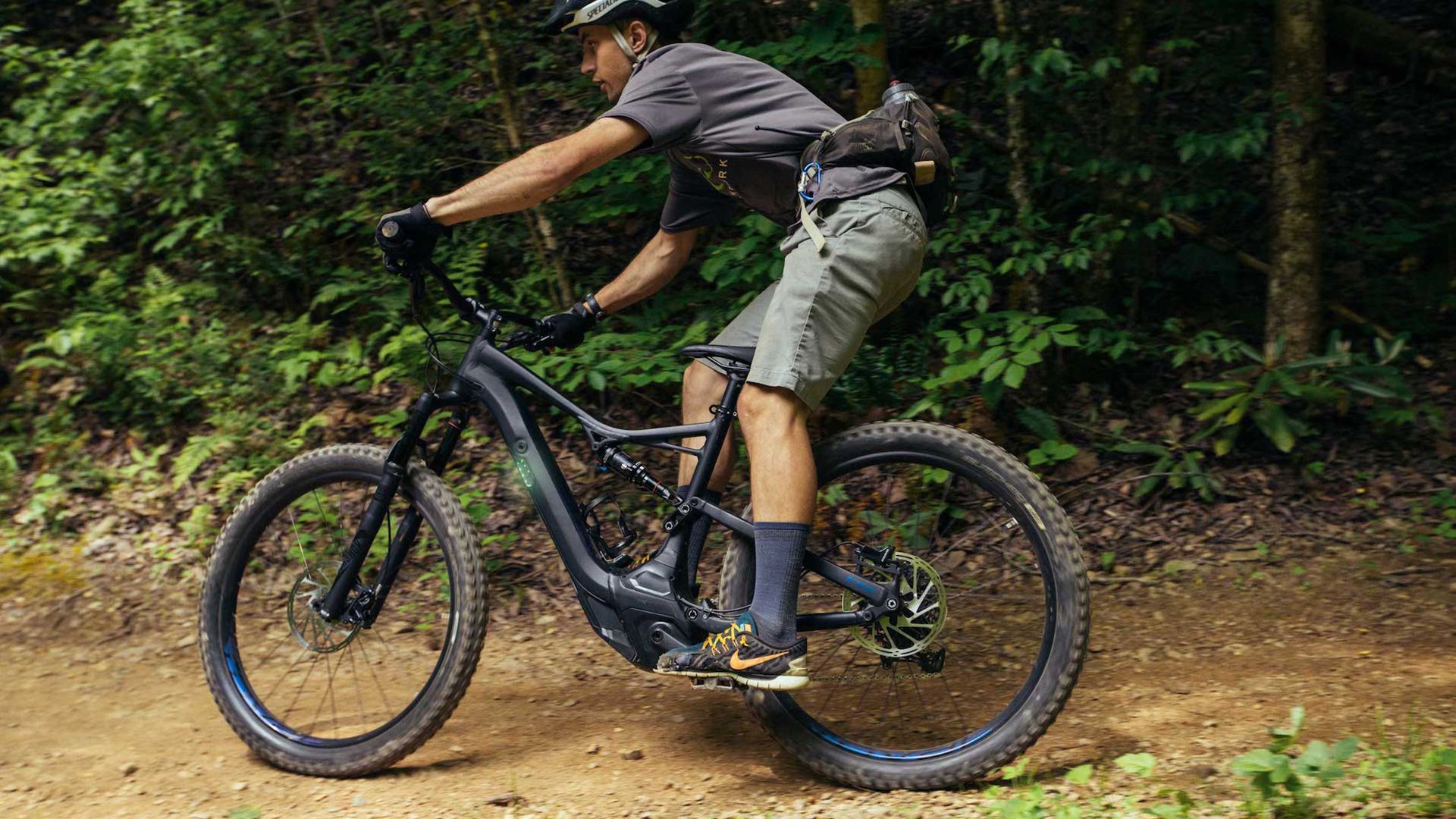 #1 RATED ZIPLINE IN TENNESSEE 9 YEARS IN A ROW

Over
5,000

online reviews.
What's included in Mountain E-Biking?
The Trail
WORLD-CLASS FLOW TRAIL
We offer several trail options in our e-bike park. Our original loop is an intermediate two-mile trail with the first 1/3 uphill, second 1/3 smooth flow trail, and last 1/3 downhill. The loop can be as easy or as technical as you want to make it. Our BRAND NEW trail for 2019 is our two-mile "stacked loop" trail that features an intermediate climbing section leading to a fast, fun downhill ride cutting through dense pines and crossing several wooden bridges.
GUIDED FIRST LOOP
Our goal here at CLIMB Works is to push you a little out of your comfort zone at your own pace. Because of the mountain terrain, our trail is considered an intermediate trail. Luckily here at CLIMB Works, we make it easy to get started. Our professional guides provide a guided, instructional first loop that will teach proper biking techniques, educate you about trail, and be able to provide personalized instruction. If you're new to mountain biking, it's like a free lesson.
Our NEW specialized, pedal-assist E-Bikes (Turbo Levo Series) also give you the added energy to tackle the uphill portions of our trail, letting you ride longer and at your own pace.
If you feel comfortable riding a bike, have good coordination, and are ready to sweat, then you have what it takes to mountain e-bike with us. Our trails are all a one-way loop, so you'll never have to worry about oncoming traffic. You can relax, go at your own pace, and have a lot of fun.
EXPERTS
If you're an experienced rider, our world-class designed flow trail is packed with technical options – rollers, berms, logs rides, bridges, and incredible wood features that will give you the exciting single track you are looking for. Add a high-end Specialized Mountain E-bike to the mix and get ready for a brand new adventure.
The Bikes
CAN I RENT A BIKE?
Absolutely! CLIMB Works offers high-end Specialized, pedal assist mountain e-bikes (Turbo Levo Series) that provide increased stability and control all while requiring less effort from you. Our mountain e-bikes allow you to take your own strength and ability to the next level. You will be able to ride longer and further than ever before! Smaller-sized bikes are available for children and teenagers that are at least 4'8″ and ages eleven and above. Because all our rentals are inspected before and after being ridden, we guarantee you a bike in great condition. Also, we've simplified our gear controls so newcomer and experts alike can shift gears easily making the experience more enjoyable.
CAN I BRING MY OWN BIKE?
You certainly can! Road, hybrid or "townie" bikes are strongly discouraged as they do not provide adequate traction and control the trail necessitates.
The Curliest
OUR FLAGSHIP FEATURE
This wooden, roller-coaster-esque structure fittingly named "The Curliest" is the pride and joy of El Regis Trail. Tucked in the heart of the Smokies, built over a stream, and designed to be pleasing unto the eyes as well as the wheels, The Curliest can be ridden as many times as you'd like.
CAN ANYONE DO IT?
Because you can take it at any speed you feel comfortable with, any riders comfortable with riding the rest of the trail will feel comfortable riding The Curliest.
Mountain E-Biking
$59

per person

– 2-hour trail pass
– Guided first loop with bike instructors
– High-end Specialized Electric (pedal-assist) bikes
– Trail options for intermediate riders to experts
– Premium flow trail