When the weather is nice, celebrate by spending time outdoors! The Smoky Mountains are home to a number of exciting activities to do outside. Whether you're soaring through the air on a zipline or coasting down the river on a raft, you'll never run out of adventures when you visit the Smoky Mountains. To help you decide what to do on your vacation, we've come up with 5 of the best outdoor things to do in the Smoky Mountains.
1. Ziplining
Ziplining is an unforgettable outdoor experience. When you go ziplining at CLIMB Works, you're in for a treat. Your feet won't touch the ground for more than 2 hours! Your adventure begins with an ATV ride to the top of the hill, where you'll then soar through the trees on 9 world-class ziplines. Not only that, but you'll also get to cross 3 sky bridges and enjoy a surprise ending! On our zipline canopy tour, you'll be able to breathe in the fresh mountain air and see the Smoky Mountains like never before. Our zipline course is extremely safe, so the only thing you have to worry about is having a great time!
2. Mountain Biking
Another great way to enjoy the outdoors is to go mountain biking! We provide the trail, the bike and the incredible experience, so all you have to bring is yourself and a good attitude. Try our mountain biking trail for an adrenaline-pumping adventure in the Smoky Mountains. Our trail is a 2-mile loop. The first ⅓ mile is uphill, the second ⅓ mile is a smooth flow trail, and the last ⅓ mile is downhill. You don't have to be a pro to ride our mountain biking trail. We have bike experts that will offer you pointers and help ensure you have a great time!
3. Whitewater Rafting
One of the best things to do in the Smoky Mountains is go whitewater rafting with Smoky Mountain Outdoors. Raft down the Pigeon River and see the Smoky Mountains in a whole new way. Smoky Mountain Outdoors offers a few different rafting trips throughout the rafting season. You can go Upper River Rafting for a 6.5-mile trip down the river with plenty of big waves and drops, or go rafting on the Lower River for a more leisurely trip that's great for families with kids. To satisfy your sense of adventure, go Extreme Upper River Rafting in a smaller boat so you can hit more rapids on your trip down the river. When you raft with Smoky Mountain Outdoors, you can book a combo package that includes a rafting trip and a zipline canopy tour or mountain biking trip with us — or all three!
4. Camping
If you really want to enjoy the great outdoors, spend a night underneath the stars! Camping in the Smoky Mountains is a great way to enjoy the fresh mountain air and take in the beautiful sights. Pigeon River Campground is right down the road from CLIMB Works and offers an unforgettable camping experience. You can choose to camp the old-fashioned way in a tent, camp in an RV or stay in one of their camping cabins! Pigeon River Campground also has a variety of amenities, from a general store to a swimming pool. You can't go wrong with a night of camping!
5. Hiking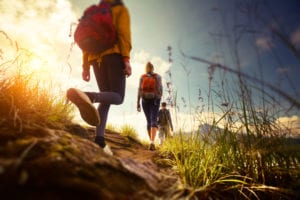 With more than 850 miles of hiking trails, the Great Smoky Mountains National Park provides the perfect opportunity to enjoy the outdoors. Hiking is a great activity during all seasons. You can go for a hike during the winter and see frozen waterfalls, ice formations and snow-covered mountains, or hike during the spring and see gorgeous Smoky Mountain wildflowers, waterfalls and maybe even some wildlife! Some of the most popular hiking trails include Laurel Falls Trail, where you can see an 80-foot waterfall, and Porters Creek Trail, which is great for viewing wildflowers.
You'll never run out of exciting outdoor things to do in the Smoky Mountains. Learn more about our zipline canopy tour and start planning your trip to try all of these amazing activities!