If you've been trying to decide what to do when you visit the Smokies, you should book our Adventure Package that combines ziplining with rafting in the Smoky Mountains! You'll get to do two exciting activities, and everyone in your group will have fun. Here are 4 reasons to book our Adventure Package for rafting in the Smoky Mountains:
1. Save Some Money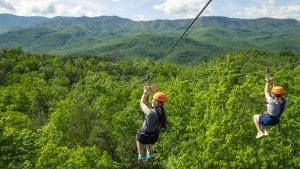 One of the top reasons you should book a ziplining tour and a whitewater rafting trip is to save some money! When you book both of these activities at the same time, you're getting a better deal when compared to purchasing these activities separately. Who wouldn't want to save some money on something as fun as ziplining through the trees or past mountains and whitewater rafting on class 3 and 4 rapids?
2. Perfect for Adventurers
If you have family members who love adventure or love to stay on the go constantly, booking our Adventure Package with ziplining and rafting in the Smoky Mountains is a great way to spend your time here. Your family members will love walking through the trees on wooden bridges while watching other people ziplining. They will love the thrill of looking far down into the woods as you go from platform to platform. There's nothing like feeling the wind rush past you as you ride on the ziplines. Plus, you'll also get to feel the thrill of going over rushing water, paddling as fast as you can with this package!
3. Do More Exciting Activities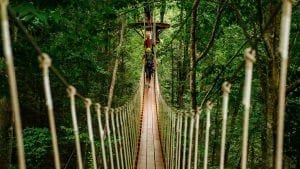 When you book this package, you'll get to do more than one activity! If you only did one activity, you might wish you could have done even more because you had so much fun! Don't worry about the fear of missing out; go ahead and plan on doing both activities by booking our Adventure Package!
4. Super Convenient
Since you're already planning on going ziplining in the Smoky Mountains with us, you might as well book another adventure while you're at it! Our package with Smoky Mountain Outdoors makes planning your vacation very convenient. You won't have to try to find a company that offers rafting; we already have everything done for you! Plus, you'll already have plans for ziplining and rafting, preventing you from trying to figure out a plan of what to do while you sit in your hotel room or cabin.
More About the Adventure Package for Rafting in the Smoky Mountains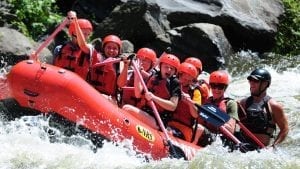 You can choose between rafting on the Pigeon River and the Treetop Tour or the Mountaintop Tour. If you want to see incredible mountain views, you should choose the Mountaintop Tour. If you want to fly through the trees, go on the Treetop Tour. Our partners, Smoky Mountain Outdoors, provide you with the opportunity to go on an Upper River trip with them when you book this package. You'll go on a 6.5 mile trip down the river with a guide in your raft.
You definitely don't want to miss out on being able to zipline and whitewater raft in the same trip. Find out more about our Adventure Package for rafting in the Smoky Mountains, then start planning your trip!