The Great Smoky Mountains offer an incredible getaway for nature lovers, adventure seekers, and families. With so many things to see and do in the area, where do you start when planning a smoky mountains vacation? We've got you covered! In this post, we'll provide you with the perfect 3-day itinerary to ensure you experience the best of what the Smoky Mountains have to offer.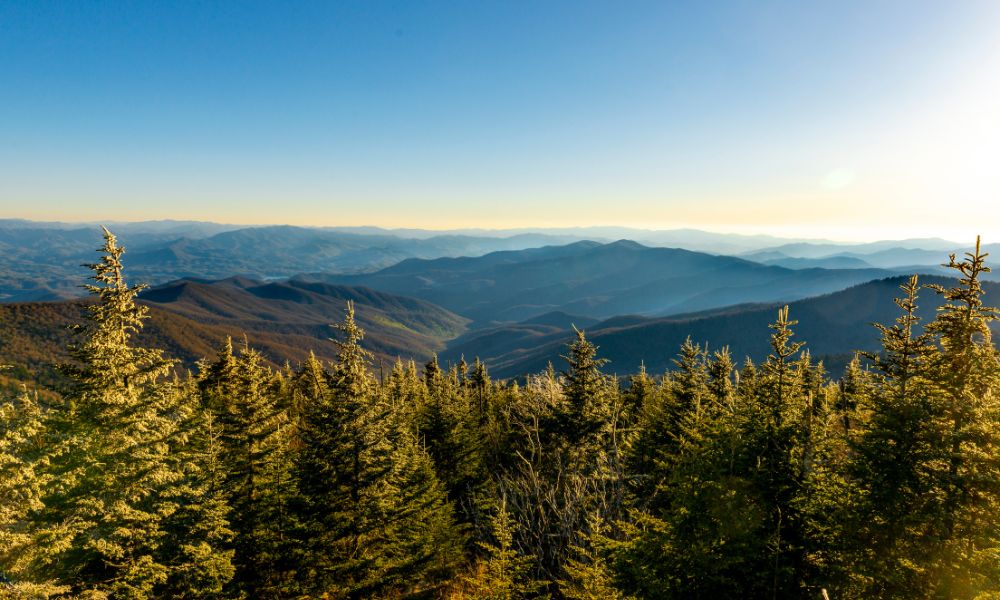 Before You Go
Great Smoky Mountains National Park now requires a parking tag. These can be purchased at the visitors center, or in advance online. Many activities require advanced reservations. It is best to check different activities and lodging months in advance to be sure of seasonal hours, availability, and to ensure to save your spot! While the Smoky Mountains area is a year-round tourist destination, spring break, summer, fall break, and Christmas break are the busiest times, in addition to holidays throughout the year. The Smoky Mountains are also a temperate rainforest where many severe weather storms can happen. Always be aware of the forecast and warnings in the area.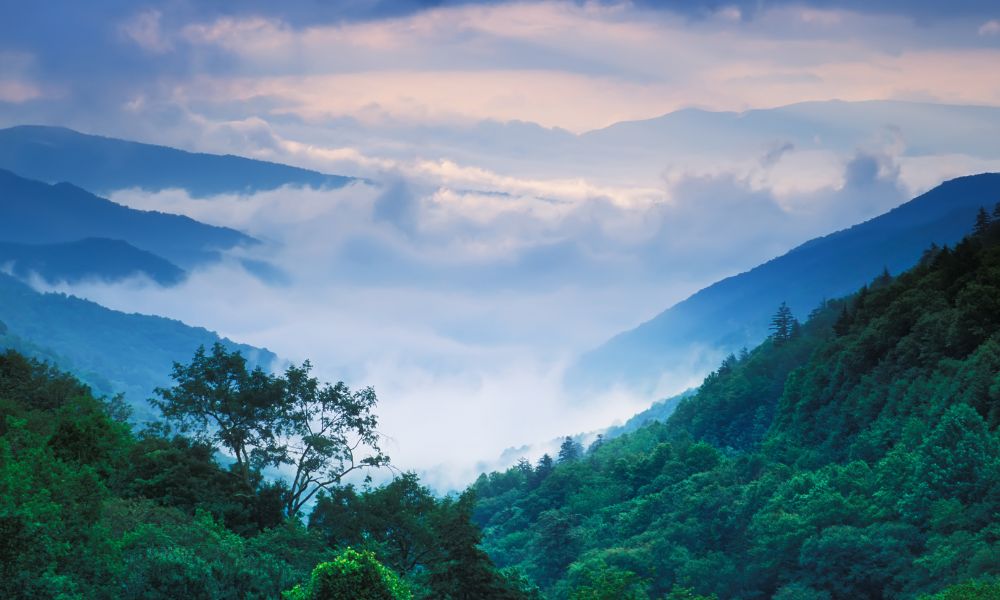 Day 1: Explore the Great Smoky Mountains National Park
Great Smoky Mountains National Park is the most visited national park in the country. It is home to a variety of plants, animals, and incredible terrain. From rivers and streams, to waterfalls and scenic views, the Smokies have it all. As a bonus, entrance to the park is free! As of March 2023, the national park requires a parking tag in designated parking areas for more than 15 minutes. There is no need to get a tag if you are just driving through and sightseeing, but it will be necessary if you are planning to venture off the road to a hike or picnic, etc.
Clingman's Dome is the iconic pinnacle of the national park. It is a must do, especially for sunrise or sunset. The observation tower sits at the tallest point of the Smokies and has a full 360-degree view. The Newfound Gap road is a very scenic drive up the ridgeline of the Appalachian Mountains, and it takes you up to the short, paved hike to the summit. If you are looking for more of a challenge, the most famous hike is Mount LeConte—with four different routes to the summit, where you'll find a lodge for overnight accommodations. Reservations must be made in advance. If you are looking for a great story to bring home, staying at the LeConte Lodge would be our number one choice for things to do in the Smoky Mountains.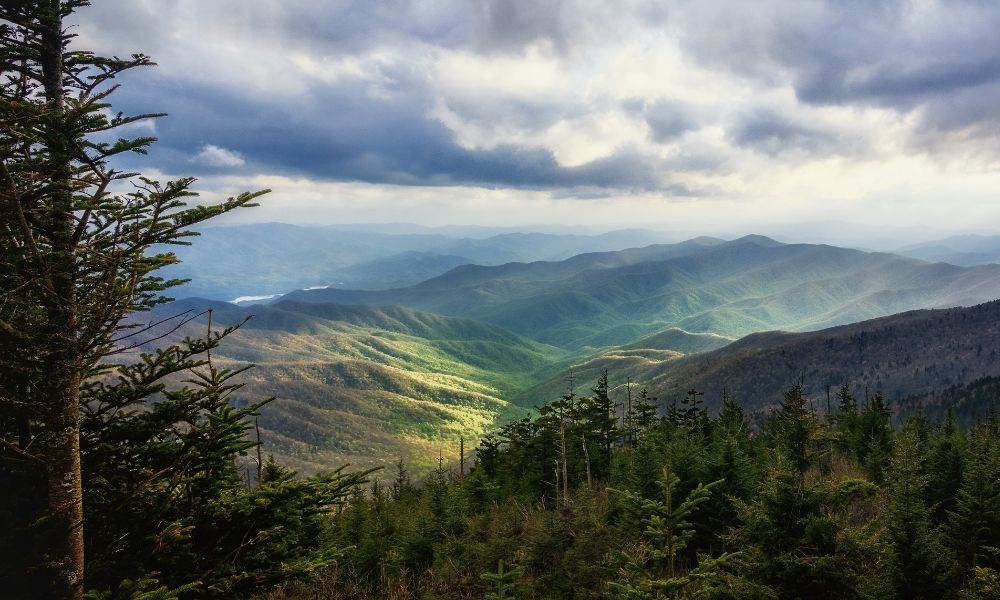 A very unique way to see the Smoky Mountains from a bird's eye view is to zipline with CLIMB Works Smoky Mountains. The 2-hour guided tour includes an ATV ride, 6 dual ziplines with breathtaking views, a rappel, suspension bridges, and a floating staircase. It is a great opportunity to get some Instagram-worthy pictures and videos out in nature surrounded by Great Smoky Mountains National Park. CLIMB Works has a photo package that will leave you with lasting memories to share.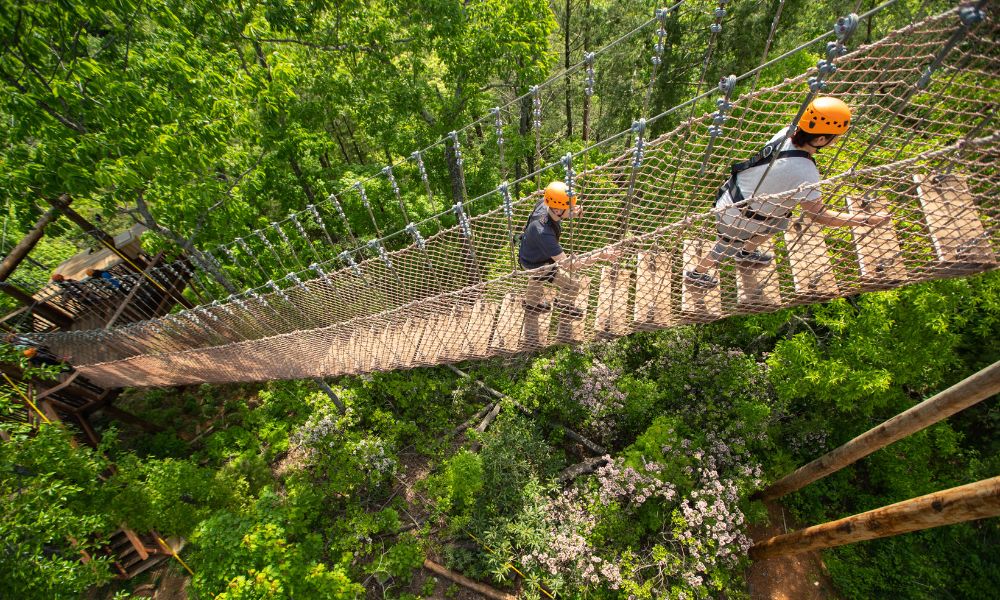 Depending on where you start, we suggest looking at a map to organize your day most efficiently, as many of the activities take some driving time. Gatlinburg is a great stop for lunch, but you will want to take plenty of water and snacks along for the journey. Be prepared to wear comfortable shoes for walking around and touring the areas, as well as decent hiking shoes to get into the trails and up the mountains. Always check in at the visitor's center for up-to-date information on wildlife safety, weather and road conditions, and any current safety precautions.
Day 2: Discover the Local Culture & Cuisine
After spending a day out in nature, take some time to discover the charm of the amazing towns of Gatlinburg and Pigeon Forge. Pigeon Forge has so many attractions that frequently make the list for vacation itineraries. The most popular in the area are the mountain coasters, mini golf, go kart racing, and visiting the many unique museums found in the area.
One of our favorite activities in Pigeon Forge is the Lumberjack Feud Supper Show & Adventure Park—perfect for all members of the family. Looking for a way to do it all? Our vacation package offers an all-out Smoky Mountains adventure, with ziplining, rafting, and Anakeesta!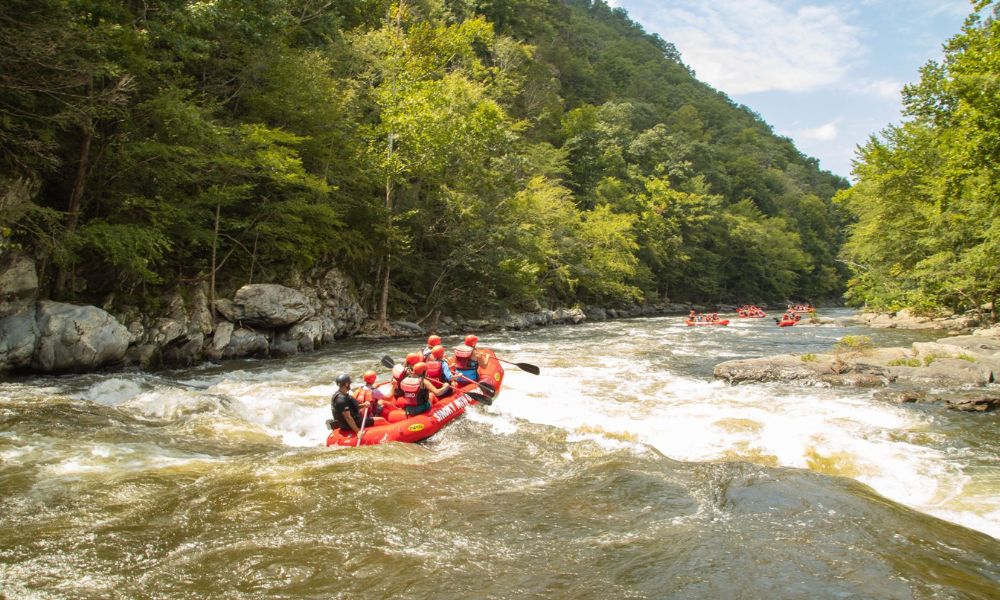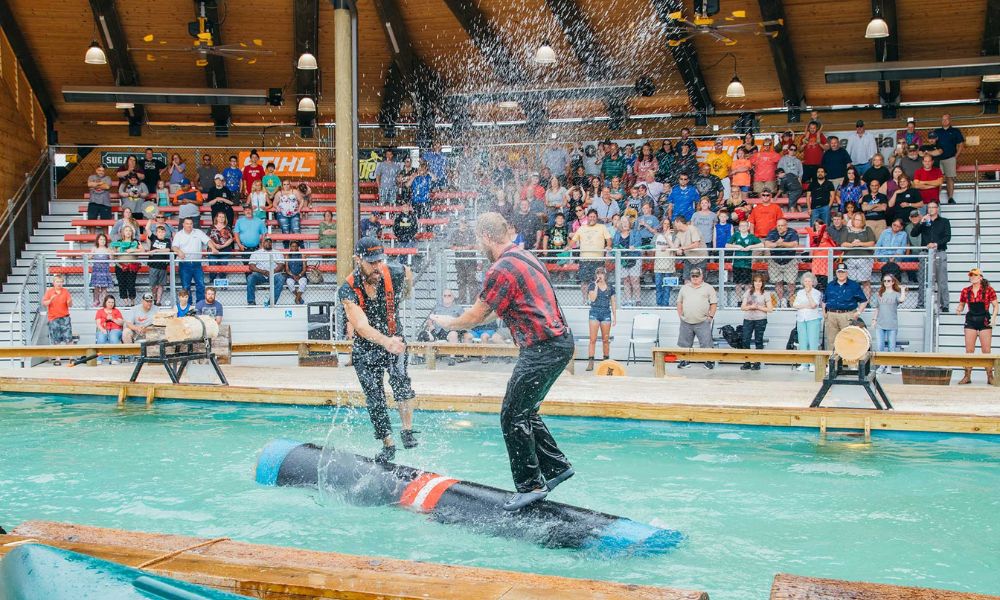 You could also spend an afternoon checking out the over 80 shops, restaurants, and attractions at The Island in Pigeon Forge. There are so many restaurants to choose from, so we recommend doing your research ahead of time! If you are looking for some mealtime entertainment, check out some of the many dinner shows in the area.
Exploring the charming town of Gatlinburg is another option for one of your days in the Smoky Mountains. This special town has a deep history with many notable sites. You'll enjoy learning about the local history throughout your visit. Check out the historic art district—the main strip with hundreds of different vendors, restaurants, shops, and activities the whole family will enjoy. Some of the main attractions in the area include the SkyLift Park, Anakeesta, and Ober Gatlinburg.
Some of our favorite restaurants to visit with the family while on your Smoky Mountains vacation include: The Old Mill, Ole Red, Blue Moose, Local Goat, Smoky Mountain Brewery, and Crockett's Breakfast Camp. If you are looking for some special finds off the beaten path, try Trish's Mountain Diner, Doc's 321 Cafe, or the Greenbrier Restaurant.
View this post on Instagram
While the Smoky Mountains are a year-round destination for vacations, we recommend visiting during the non-peak times (early spring, late fall, and winter). Many families come for a full week vacation while the majority come for an extended weekend road trip. Plan on longer wait times and busier traffic for Pigeon Forge attractions during these peak periods. If it is busy, there are multiple entrances to the national park. The Greenbrier, Cosby, Deep Creek, and Townsend entrances tend to be more mellow.
Day 3: Relax & Unwind in Nature
On your final day, you may feel exhausted from all the traffic and attractions you've visited in the more touristy areas. Now it's time to get back out to what really makes the area great, The Great Smoky Mountains! One scenic drive that cannot be missed is Cades Cove. This 11-mile, one-way road is rich with Smoky Mountain history and culture. There are historic sites along the way where you can stop and learn about how the area came to be. There are many cemeteries, churches, and old settlements to tour. On Wednesdays, the road is closed to automotive traffic and open for biking, so if you are looking for the most peaceful way to visit, pack your bikes and ride car-free roads on Wednesday! The drive to Cades Cove passes along the river, with many pull-off spots to picnic, tube, and even hike to the best waterfalls in the area. Abrams Falls is the lowest elevation point in the park and boasts some amazing cascades. The Sinks, a set of waterfalls on the Little River, is also a great family-friendly picnic spot where you can enjoy being immersed amongst wildlife. We suggest having your own car or renting a car for the distance and time required.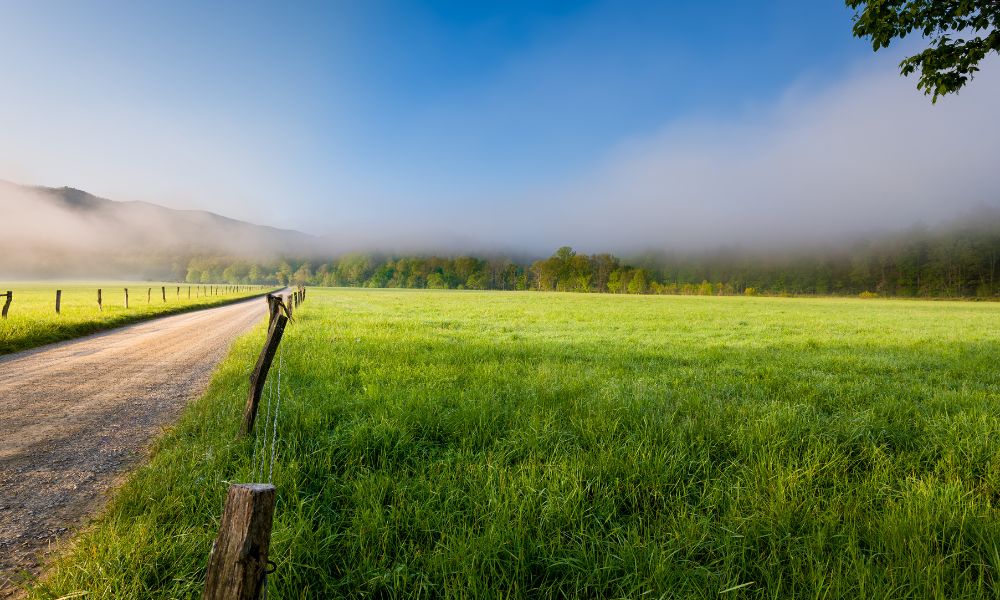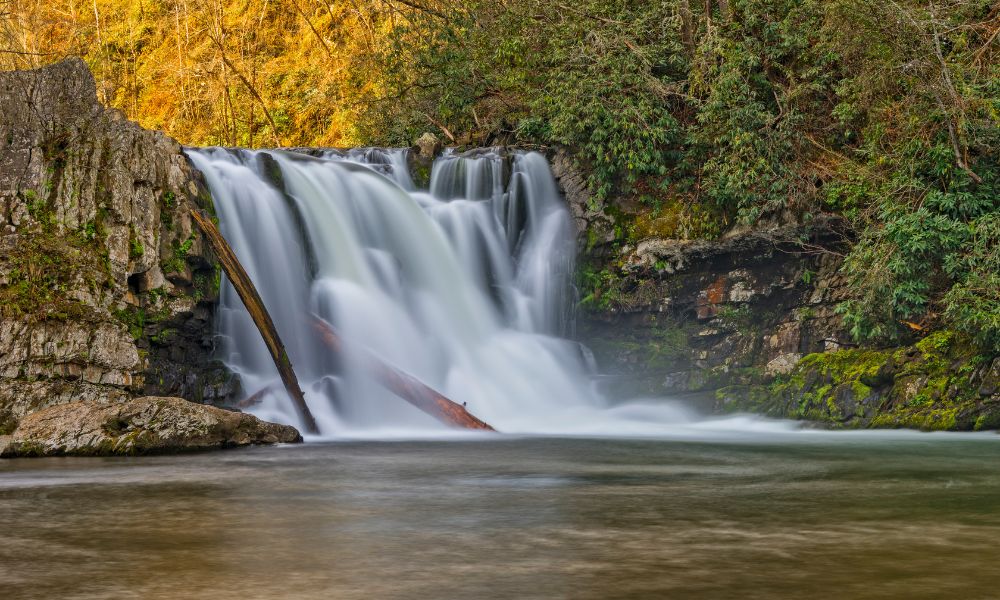 Many travelers rush through the park to see as much as they can, and they fail to see the real beauty of the Smokies while in a hurry. Take time to sit back and soak up the biodiversity of the area. The Great Smoky Mountains are home to thousands of different species of plants and animals. This place will leave you feeling one with nature if you take the time to appreciate it!
Plan Your Smoky Mountains Getaway
When planning your trip and searching for Smoky Mountain vacation ideas, don't be overwhelmed by the many things to do. It's an easy place to visit multiple times, and it cannot be done in one go. Pick your theme of the trip and have a good balance of touristy activities, outings in nature, and time to relax and take it all in.
There are many itineraries out there that others have created that can help narrow down your interests and help you pick which section of the area to hone in on. Since this area receives many visitors, most businesses have great insights shared in their customer reviews, which can be helpful with the decision process. Plan your trip soon, and contact CLIMB Works Smoky Mountains if you have any questions or would like more information. We are glad to help!
Many travelers rush through the park to see as much as they can, and they fail to see the real beauty of the Smokies while in a hurry. Take time to sit back and soak up the biodiversity of the area. The Great Smoky Mountains are home to thousands of different species of plants and animals. This place will leave you feeling one with nature if you take the time to appreciate it!