One of the best ways to save money on your Smoky Mountain vacation is to combine a zipline tour at CLIMB Works with a performance of the Lumberjack Feud in Pigeon Forge! Our convenient packages provide admission to both of these action packed attractions at a reduced rate, making it one of the top deals in the Smokies! Here are the top 4 things that you need to know about visiting the Lumberjack Feud in Pigeon Forge:
1. What to Expect
The Lumberjack Feud in Pigeon Forge is a 1.5 hour authentic lumberjack show where real athletes compete in 13 different events including axe throwing, log rolling and speed climbing! You can also get into the action as you cheer either the Dawson or McGraw lumberjack families in each of the competitive events! The Lumberjack Feud takes place in a 350 seat outdoor amphitheater that is climate controlled for your comfort, so there are showtimes all year long! This breathtaking show is appropriate for all ages and there is even a special kids event during the admission!
2. Lumberjack Adventure Park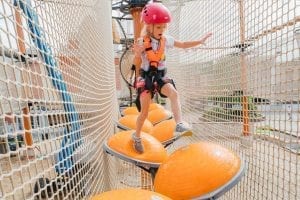 The Lumberjack Feud is just part of the fun as you can compete in your own lumberjack events after the show at the Lumberjack Adventure Park! This exciting interactive park is included as part of our Adventure Package, making it a fantastic value for adventure seekers! CLIMB Works actually designed and built the Lumberjack Adventure Park, so you can count on a thrilling, fun and safe experience that is sure to become a highlight of your Smoky Mountain vacation! Try your skills at log rolls while being safely harnessed, or attempt the High Woodsman Challenge on the lumberjack themed ropes course! You also won't want to miss the Flying Ox, a unique zipline roller coaster that is the first of its kind!
3. Times, Dates and Location
You will find the Lumberjack Feud conveniently located in Pigeon Forge at 2530 Parkway, which can easily be accessed from CLIMB Works among several scenic routes! Whether you are spending your vacation in Pigeon Forge, Gatlinburg or Sevierville, both attractions are never far away! The Lumberjack Feud Show generally takes place on Fridays, Saturdays and Sundays throughout the winter months and daily during the rest of the year, while the Adventure Park is open daily all year long. When booking your Adventure Package, simply select the number of participants and select a date to determine availability.
4. How to Participate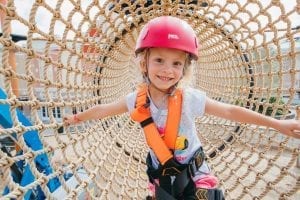 The Lumberjack Feud in Pigeon Forge is appropriate for everyone in the family so be sure to bring the kids along for the fun! Please note that in order to participate in the Lumberjack Feud Adventure Park elements, kids must be at least 5 years old. Children who are ages 5 to 7 must be accompanied by someone 18 years or older, while children ages 8 to 11 must be accompanied by someone 12 years or older. As far as the zipline portion of the package at CLIMB Works, kids must be at least 7 years old to participate.
Check out all of our Adventure Packages today that combine the Lumberjack Feud in Pigeon Forge with a zipline adventure at CLIMB Works! We look forward to seeing you soon!