Fall is our favorite time of the year to experience the Great Smoky Mountains. It is the perfect place and time for a family vacation, honeymoon, bachelorette party, weekend getaway, and much more. Here is why we believe you need to add ziplining in the fall to your bucket list.
Photo Opportunities
If you are looking to up your social media game, this is the place! Our Mountain Top Zipline is tucked away from the city and borders the Great Smoky Mountains National Park! The views are unmatched. Our guides will be taking group pictures, action shots, and photos of you on our scenic suspension bridges that make a great family Christmas card! You are also welcome to bring your own phone or action camera along for the ride.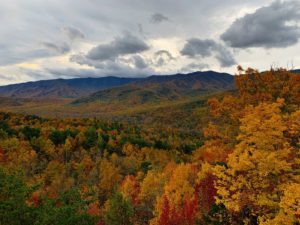 Fall Colors
The last week of October and first week of November are generally the best time to see the fall colors in full effect. You will be viewing the forest from above the tree line and be able to see down into all of the changing colors. You will also get a full 360 degree view of the surrounding mountains for some panoramic shots. As one of the most biodiverse ecosystems in the world, there is plenty of variety in plant life to see!
Ideal Weather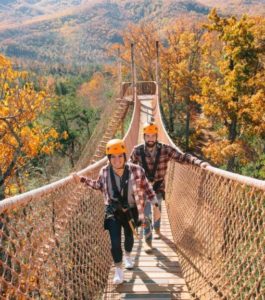 One of the best parts about autumn is the flexibility of your outfit! Temperatures will range from 60's to 80's throughout the fall. The air is a little drier and the sun shines down on us for that extra warmth. Depending on the day of your tour, guests generally will wear a lighter outfit from shorts, leggings, and a t-shirt, to a warmer jacket and pants. The assuring factor is that no matter if it rains or not, we will be ziplining! We also have ponchos you can rent for free before you head up the mountain.
The Adventure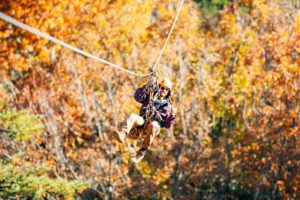 Ziplining is definitely a thrilling adventure! Known as the top-rated zipline for safety, you can have the confidence of stepping out of your comfort zone and overcoming your fears. There is no other feeling that compares to zipping through the Smoky Mountains in the fall time. It will be an experience that you will remember forever!
For more information on our Mountain Top Zipline and to check off ziplining on your bucket list, click below!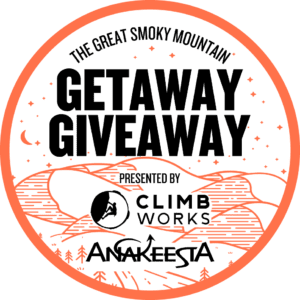 Did you know we are giving away 4 vacation packages this fall? Enter our Getaway Giveaway by October 27, 2021 for a chance to win a paid vacation to the smokies!