f you are looking for a unique and fun team building activity for your group or organization, check out the thrilling zipline tours at CLIMB Works! Ziplining in the Smoky Mountains is a fantastic activity to get your whole group together and creates a special bonding opportunity among your group members! Here are the top 4 reasons why our ziplines in the Smoky Mountains are perfect for a team building activity:
1. Opportunity to Provide Encouragement
While many members of your group will be excited about experiencing the thrills of our Mountaintop and Treetop Zipline Tours, you may have some that are nervous about heights! This is a fantastic opportunity for your team to bond as you provide encouragement to your fellow group members, as well as plenty of high-fives as you make it across each of the incredible ziplines at CLIMB Works! Before you know it, everyone in your group will be having a blast soaring through the air while enjoying the spectacular views of the Smokies!
2. Builds Confidence Among Team Members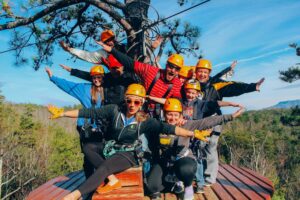 Another top reason why our ziplines in the Smoky Mountains are perfect for a team building activity is because it builds confidence among team members! Your fellow group members will cheer you on as you fly across the sky on our ziplines and make you feel confident about experiencing every aspect of our tour! Whether you are riding the ATV to the top of your adventure, walking across scenic aerial bridges or rappelling off a platform, your team members will provide confidence on every single task! This will help to develop confidence in both yourself and the others around you.
3. Learn More About Each Other
If you are not familiar with all the members of your team, the zipline tours at CLIMB Works will help you learn more about each other! You will be surprised how much you will discover about the strengths, weaknesses, capabilities and fears of all the participants in your group! Our zip lines in the Smoky Mountains will help your team members develop a deeper relationship with one another and build a strong level of trust. As a bonus, the huge amount of FUN associated with this activity will help to build morale among your group!
4. Identifies Leadership Qualities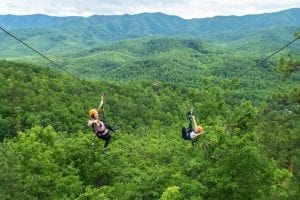 Whether you are a corporation, church group, scouting group or other organization, every group needs leadership. Our ziplines in the Smoky Mountains offer a structured team building activity that will help identify leadership qualities in individuals. You may be surprised to find out who becomes the leader of your team as you navigate the thrills of the zipline tours at CLIMB Works! Each participant on your team will not only gain respect for the leader of your group, but also for each other. It is no wonder why ziplining is the ultimate team building exercise!
Now that you know why our ziplines in the Smoky Mountains make the perfect team building activity, plan your visit today to experience the adventure of a lifetime at CLIMB Works! We look forward to seeing your group soon!