Nothing beats a gorgeous Smoky Mountain view. When you visit the area, there are plenty of opportunities to take in the beautiful sights while having fun. If you are looking for the best ways to see the sights, try one of these 4 things to do in the Smoky Mountains with a view:
1. Zipline with CLIMB Works
Ziplining offers breathtaking mountain views. When you zipline with us at CLIMB Works, the view is unbeatable. We have 2 zipline tours for you to choose from that both provide incredible views. On our Treetop Zipline Tour, you'll soar through the trees on 9 world-class ziplines over large ravines, streams and even some wildlife! On our Mountaintop Zipline Tour, you'll see the Smokies like never before with 360-degree panoramic views from our high and long dual ziplines. Enjoy a bird's eye view of the Great Smoky Mountains National Park when you zipline with CLIMB Works!
2. Go Hiking in the Great Smoky Mountains National Park
Another great way to enjoy the view is by taking a hike in the Great Smoky Mountains National Park! The national park has more than 850 miles of hiking trails for you to explore, all of which let you experience the true beauty of the Smoky Mountains. Every season offers its own special sights, from snow-covered mountaintops and icicles in the winter, to wildflowers and cascading waterfalls in the summer. You'll definitely want to bring a camera with you to capture the scenery when you go hiking!
3. Go Rafting with Smoky Mountain Outdoors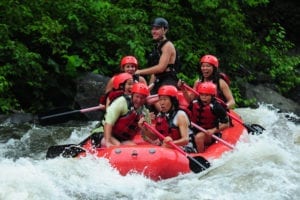 Going white water rafting in the Smoky Mountains is the perfect combination of adventure and sightseeing. Smoky Mountain Outdoors has an Upper River Rafting Trip that is great for those seeking a new way to take in the sights! As you coast along the river on class 3 and 4 rapids, take time to admire the beauty of the Smoky Mountains all around you. We've even teamed up with Smoky Mountain Outdoors to offer you both a zipline tour and a rafting trip so you can experience the ultimate adventure while you take in the sights!
4. Explore Anakeesta
Another great thing to do in the Smoky Mountains with a view is visit Anakeesta. Anakeesta is a magical outdoor theme park that has plenty of opportunities for you to take in the sights. In fact, your journey to the park begins with a scenic ride on the Chondola, which takes you to the summit of Anakeesta Mountain. Once you're there, you can go ziplining, cross 16 bridges on the Tree Canopy Walk, or find the perfect spot in the park to watch the sunset over the mountains. There is even an enchanting botanical garden that has walking trails that lead you through lush gardens full of flowers and plants!
You'll never run out of things to do in the Smoky Mountains that offer breathtaking views! Start your sightseeing adventure by learning all about ziplining at CLIMB Works and booking your trip.