CLIMB Works is the top place to zipline in the Smoky Mountains! We make sure all our guests have a fantastic experience while they are here. We could give you a whole list of reasons why people love ziplining with us, but instead we're going to let you find out from our visitors themselves! We've put together some of our TripAdvisor reviews that tell you 4 reasons people love ziplining in the Smoky Mountains at CLIMB Works.
1. Amazing Guides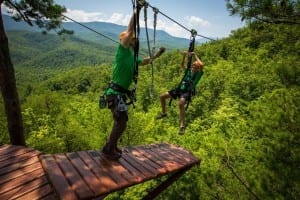 In almost every review, there is a mention of our wonderful guides. We have guides that accompany you on the zipline tour to guarantee you have a safe and enjoyable experience. See what people had to say about our guides below:
"2.5 hours of fun zipping across the tree tops! The guides were great – explained things well and kept everyone safe. They made it fun with their suggestions and willingness to interact and get us yelling and screaming on the way down. Great company with relaxed, happy people – and a giant Golden doodle at their home base! These people deserve your business!" -Laurie Wood
"My wife and I went to Gatlinburg Tennessee for our wedding anniversary. She convinced me (who is scared of heights) to go zip lining. Gerald and Jayden were our guides. They were both friendly and outgoing. They realized that I was a little nervous but they made sure to explain all the instructions to make me feel safe. They made it an awesome experience for me." -Justin D.
2. Gorgeous Views
Of course one of the most rewarding aspects of our zipline canopy tour is the gorgeous views you'll get along the way. Nothing compares to seeing the beauty of the Smoky Mountains from high in the trees! Find out what people had to say about the views below:
"Very thrilling, but very safe. These people really know what they're doing. Breathtaking views all throughout, from the 9 different zip lines we traversed from tree stand to tree stand." -Chad L
"Everything about this was amazing! The views were incredible!! The part I was most scared about going in was the thought of braking myself to stop, but I was so relieved to find out the guides brake for you! You don't have to do anything but enjoy!" -Nicole G
3. Fantastic Group Activity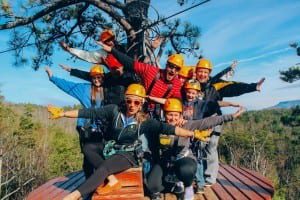 Whether you're visiting with your family or a group of friends, ziplining in the Smoky Mountains at CLIMB Works is the best activity! We'll make sure everyone in the group has a fantastic time and creates memories that will last forever. See what people had to say about it being a fantastic group activity below:
"Amazing place to zipline with the whole family!! We had a group of 8 family members ranging in ages from 12-48 and everyone had a wonderful time. Our guides Scooter and Alyssa were top notch and made us feel at ease during the entire 2 hour adventure. Safety is top priority with this company and you get what you pay for with this experience. I would highly recommend CLIMB Works!!!" -Madison
"We did the zip lining canopy tour and it was as good as it gets! Our guides, AP and Cody were wonderful! Handling 6 college girls at 9am who were very chatty is a task on its own. They were very knowledgeable and helped make us feel safe on the lines. We loved getting to know you both. Only two of us had been on a zip line before but after the first line everyone was having a blast and felt safe in our harnesses." – Breanna B.
4. Unforgettable Adventure
The overall experience at CLIMB Works is an unforgettable adventure. If you're looking for an exciting activity to try on your vacation that both challenges and inspires you, then you'll love ziplining in the Smoky Mountains! See what people had to say about the experience:
"What a great way to spend 2 1/2 hours of your vacation time! A must do if you are visiting Gatlinburg or Pigeon Forge. Great experience, exceptional guides and staff, beautiful views, and exhilarating first steps off each platform. We felt very safe and well instructed. It was fun sharing the experience with new friends in your "zip group." -Kim and Alice
"Awesome time! Great views of the mountains. Our guides had great personalities and made the experience enjoyable. Just the right amount of low and slow, high and fast zip lines. Turned out to be or favorite experience on our vacation voted by all!!" -Nicki V.
Now that you've heard what people have to say about ziplining in the Smoky Mountains with CLIMB Works, it's time to go on an adventure of your own! Find out more information about our zipline canopy tour and book your trip today.