CLIMB Works not only offers the most thrilling zipline experience in the Smoky Mountains, but plenty of bonus perks that you can enjoy just for joining us on a tour! Whether you are taking our breathtaking Mountaintop Zipline Tour or our top-rated Treetop Zipline Tour, you will love some of the extras that we have added just for you! Here are 4 of the bonus perks that you can enjoy when joining CLIMB Works for a day of ziplining in Gatlinburg:
1. ATV Adventure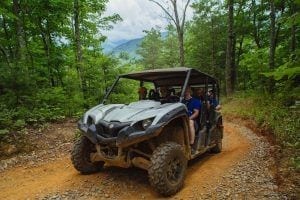 The thrills start at CLIMB Works before you even get to your first zipline on the tour! To reach the top of our mountain, you will take an exciting ATV ride with one of our professional guides! As you ride along, enjoy the beautiful surroundings of the Smoky Mountains and the crisp mountain air. You'll have just enough time to catch your breath before embarking on the adventure of a lifetime on our Treetop and Mountaintop Zipline Tours!
2. Stunning Panoramic Views
Another bonus perk of joining CLIMB Works for ziplining in Gatlinburg is the stunning panoramic views! As you prepare to soar through the sky on each of our platforms, enjoy a unique bird's eye perspective of the Smokies that many other visitors to the area never get to see! You can even bring your own GoPro or camera along to capture some beautiful photos as long as it is securely attached with a strap or similar restraint. If you don't have your own camera, there is no need to worry as CLIMB Works will take some great photos that are available for purchase!
3. Fascinating Educational Information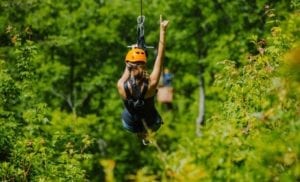 One of the things that you might not expect on a zipline tour is educational information about the area, but that is just what you will get when ziplining with CLIMB Works! During your adventure, you will learn about the rich history of the Smoky Mountains from your knowledgeable guide and educational placards. Don't be afraid to ask any questions! The Mountaintop Zipline Tour has an education focus on the biology of the Smokies, while the Treetop Zipline Tour has an educational focus on the history of the Smoky Mountains.
4. Free Lockers for Small Items
When you go ziplining in Gatlinburg, the last thing you want to worry about is losing your keys! The awesome news is that CLIMB Works offers free small lockers to hold your keys and other small items during your tour! If you do decide to take your phone and keys with you on the tour, just keep in mind that items must be secured at all items. There is really nothing that you will need to bring as water is provided for your convenience!
Make your plans to go ziplining in Gatlinburg today to take advantage of these awesome bonus perks! Check out our Treetop and Mountaintop Zipline Tours to learn more about our thrilling tours and to make your reservation! If you can't decide between the tours, try them both to see which is your favorite! We look forward to seeing you soon at CLIMB Works!