While our zipline tours offer a thrilling experience at any time of the year, there is just something magical about the fall season in the Smokies! This is the perfect time to experience a zipline adventure with your family and friends as you enjoy the spectacular weather and beautiful scenery! Here are the top 4 reasons why you should join our Smoky Mountain zipline tours in the fall:
1. Ideal Weather Conditions
The fall season is a wonderful time to join the zipline tours at CLIMB Works due to the ideal weather conditions! Although the summer temperatures in the Smoky Mountains are pleasant, the autumn temperatures are even more comfortable. The mountain air feels delightfully crisp and practically beckons you to enjoy the great outdoors! If you are worried about a little rain spoiling your fun, you can take comfort knowing that our zipline tours take place rain or shine. In fact, the Smoky Mountain ecosystem really comes alive in the rain so this can actually be an exciting time to visit!
2. Gorgeous Fall Foliage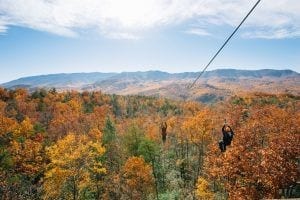 It is no secret that the Smoky Mountains have some of the most gorgeous fall foliage in the world, and there is no better way to view the colors than on our Smoky Mountain zipline tours! You will have the unique opportunity to enjoy a bird's eye view of the foliage from each of our platforms, which is truly a spectacular sight to behold! Our team will also be taking photos of you while ziplining so that you can show your friends back home the beauty of the mountains!
3. Convenient Operating Hours
CLIMB Works is open all year long with zipline tours available Monday through Saturday. This makes it easy for you to plan a tour during your fall vacation to the Smoky Mountains! Since the fall is a popular time in the Smokies, make your reservation as soon as possible so that you can be one of the lucky guests to experience our ziplines in autumn! Our tour starting times generally range from morning to early afternoon so that you can conveniently select the time that is perfect for you!
4. Minutes from Downtown Gatlinburg
Our Smoky Mountain zipline tours are situated just minutes from downtown Gatlinburg at 155 Branam Hollow Road. Therefore, we are close to all of the cabins, hotels and condo rentals in Gatlinburg and Pigeon Forge! Whether you are planning a weekend getaway to Gatlinburg or spending the entire week, it is easy to work our zipline tours into your fall vacation in the Smokies! Come find out for yourself why so many guests have considered CLIMB Works to be the highlight of their Smoky Mountain vacation!
Now that you know why you need to join our Smoky Mountain zipline tours in the fall, check out our Treetop and Mountaintop Zipline Tours today to plan your autumn adventure! We look forward to seeing you soon at CLIMB Works!