With amazing resorts, gorgeous sandy beaches and unique dining options, it is no wonder why so many Oahu visitors enjoy staying in Waikiki! While you can experience the excellent surfing conditions or climb Diamond Head, the most exciting activity on the island is just an hour drive North at CLIMB Works Keana Farms! In fact, many people find that our zipline tour is the highlight of their vacation to Hawaii! Here are the top 4 reasons why guests visiting Waikiki love our Oahu zipline tour:
1. Convenient Transportation Option
While you can easily drive your rental car from Waikiki to our location on Oahu's North Shore, consider our convenient transportation option! We operate a 15 passenger, air-conditioned shuttle service with pick-up locations at select hotels in Waikiki. During the journey to the North Shore, you can kick back and enjoy the gorgeous scenery along Oahu's windward coast. The drive normally takes between 60 and 90 minutes depending on traffic, so feel free to bring some snacks along for the trip!
2. Excellent Rain Policy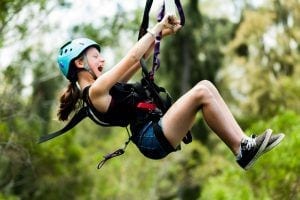 Another reason why visitors to Waikiki love our Oahu zipline tour is because of our excellent rain policy! While a rainy day can certainly spoil your day on the beach, this is actually an excellent time to join one of the tours at CLIMB Works! After all, Hawaii is known for short bursts of rainfall so the rain will have passed before you know it and you might even have the chance to see a rainbow! The only time we will not operate our zipline tour is when there are thunderstorms, which is for the safety of both our guests and our staff.
3. Thrilling Zipline Tour
Naturally, the main reason why folks love traveling from Waikiki to CLIMB Works is to experience our thrilling zipline tour! We offer the longest ziplines in Oahu and they are designed so that you can view the North Shore's famous beaches, farms and mountains next to your friends and family members! Your adventure starts with a 10 minute, 2 mile ride to the top of the mountain on an ATV, where you set off on breathtaking zip lines ranging from 500 to 2400 feet! During the tour, you will encounter rappels, sky bridges, scenic boardwalks and a couple of other fun surprises!
4. Awesome Packages With the Polynesian Cultural Center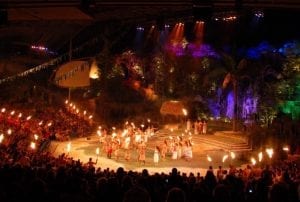 We know that many folks on vacation in Waikiki enjoy visiting the Polynesian Cultural Center, so CLIMB Works has teamed up with the PCC to offer the Ultimate North Shore Package! Since our Oahu zipline tour and the PCC are located just minutes apart on the North Shore, you can book them both on the same day or book them on separate days for the same package rate! By taking advantage of this awesome package, you can enjoy one action packed day while saving money too!
Now that you know why so many folks on vacation in Waikiki love our Oahu zipline tour, learn more about how to book your own adventure with CLIMB Works! We look forward to providing you with the highlight of your Hawaii vacation!