"

Most fun we've ever had.
– Madi, TripAdvisor
What's the difference between treetop and mountaintop tours?
If you're torn on which zipline tour to do, rest assured that you can't go wrong with either of them. Our two zipline courses are designed to be different and complimentary, each highlighting a different strength of the Smokies. See a detailed comparison of the two below.
Treetop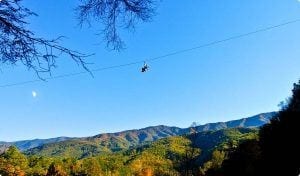 2 - 2.5 hours
Total duration
5,100 ft
Combined zipping distance
200 ft
Combined skybridge length
Biology of Smokies
Educational focus
Mountaintop
Easy–Moderate
Level of difficulty
5,900 ft
Combined zipping distance
700 ft
Combined skybridge length
History of Smokies
Educational focus