When you go on your ziplining adventure at CLIMB Works Smoky Mountains, you'll be able to have an incredible experience that you'll remember for years to come. We want to make sure you create wonderful memories while you're here. To help you out, we've come up with 3 ways to guarantee you have the best time ziplining in the Smoky Mountains.
1. Be Ready for an Adventure
Come prepared for an adventure, and you won't be disappointed! CLIMB Works Smoky Mountains offers all visitors an incredible adventure filled with ziplines, sky bridges, ATV rides and surprises! Come ready to see breathtaking views of the Smoky Mountains like you've never seen before. Our zipline canopy tour will get your adrenaline pumping and take your excitement to a whole new level.
2. Don't Let Your Nerves Get the Best of You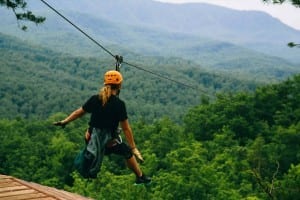 We know that ziplining can be a nerve-wracking experience. While it's OK to be nervous, don't let your nerves get the best of you! There is nothing to be afraid of when you go ziplining in the Smoky Mountains with CLIMB Works. Our course is completely safe! We've had years of experience building and operating courses across the country. Your safety and satisfaction is our top priority when you go on our canopy tour. You'll be hooked into the course the whole time you're in the air, so there is no need to worry! Just let your fears fade away and have an amazing time exploring the Smoky Mountains from new heights.
3. Bring a Group
Everything is better when you share it with the people you love! At CLIMB Works Smoky Mountains, we encourage you to share your experience with your family and closest friends. It's a great way to spend quality time with each other while taking in the beauty of the Smoky Mountains. It'll be even more surreal when you have other people to share it with.
4. Book a Package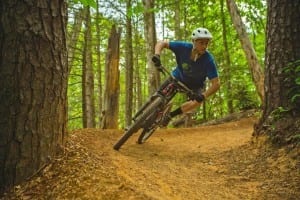 One of the best ways to guarantee you have a great time ziplining in the Smoky Mountains is to book one of our available packages. We partnered with Smoky Mountain Outdoors to create the ultimate outdoor adventure for you. You'll get to go both ziplining and whitewater rafting, or substitute one of those activities for mountain biking through the Smokies! When you go whitewater rafting, you'll surf over class 3 and 4 rapids for a thrilling ride down the Pigeon River. If you choose to go mountain biking, the trail is a one-way loop, and bike experts will be there to give you pointers and ensure you have a great time. Take advantage of all the exciting adventures we have to offer, and we guarantee you'll have a wonderful time in the Smoky Mountains!
About Your Ziplining Adventure
Our ziplining adventure is the best in the Smokies. When you go on our zipline canopy tour, you can expect 9 world-class ziplines that will keep you up in the trees for 2.5 hours! First, you'll go on a 10-minute ATV ride up the mountain before your zipline adventure begins. During the rest of your adventure, not only will you zipline, but you'll cross 3 sky bridges, where you can take in the beautiful scenery. But that's not where the fun ends! We have a surprise ending that you're sure to love.
When you come ziplining in the Smoky Mountains with CLIMB Works, you're guaranteed to have an unforgettable experience! Learn more about our zipline experience and book your trip today.