If you're going to go ziplining in the Smokies, you'll want to do so on one of the best ziplines there is, right? Well, you're in luck because our Treetop Zipline Tour was not only rated as the top zipline in Gatlinburg but also in the entire state of Tennessee! To help you plan for your experience, here is everything you need to know about one of the best ziplines in Gatlinburg: our Treetop Zipline Tour.
1. Numerous Ziplines and Fun Surprises
Here at CLIMB Works, we make it easy for you to have a great time on our Treetop Zipline Tour! This means not making you walk up the mountainside to get to the starting point for your adventure. Instead, you can enjoy a scenic ATV ride to the top! From there, your feet won't touch the ground for another 2 and a half hours as you soar through the treetops on one of our 9 world-class ziplines! You can take in beautiful views of large ravines, trees, streams, and the Smokies while traveling across 3 sky bridges. There's also a surprise ending as you bring your tour to a close.
2. Breathtaking Views of the Smokies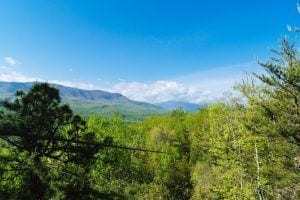 You and your family can experience a bird's eye view of all the natural wonders that make the Smokies so unique. Our 9 lines vary in length, height, and views, so you can experience the same surroundings, but from different vantage points. This will give you a chance to get more familiar with the Smoky Mountains, and will also make for an interesting and exciting experience full of new sights!
3. Learning Opportunities
The Great Smoky Mountains National Park is the most visited national park in the country, and we have the pleasure of being surrounded by it on 3 sides! Along your tour, you'll have the opportunity to learn more about it through educational plaques and your knowledgeable guide. There's no better way to educate yourself about these gorgeous mountains than by zipping right through them!
4. Unmatched in Safety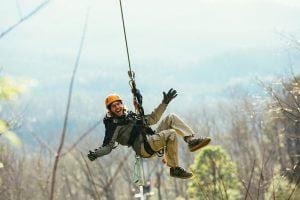 If you've never been ziplining before, don't be nervous! We have years of experience building and operating courses that are unmatched in both quality and safety. We go above and beyond industry safety standards by teaming up with structural engineers, professional arborists, and other industry professionals. Our trained staff will also take care of you from start to finish, as well as all of the necessary safety operations. So, all you have to do is relax and enjoy the ride!
5. Sunset Tours Available
You can experience one of the best ziplines in Gatlinburg in a whole new way when you give our Sunset Tours a try! These special tours begin while the sun is fading over the mountains. This will give you a chance to get a little more comfortable with ziplining before it gets dark. The sun will go down a little over halfway through the tour, and then the real fun begins! Please keep in mind that these tours are only offered during peak seasons, so it's a good idea to call ahead to see if they're available.
6. Group Discounts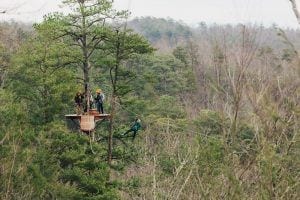 Whether you're planning on visiting the Smokies with a corporate group, your wedding party, or with other family members for a reunion, our ziplines are great for any group. You can increase camaraderie and have a fantastic time as you glide along one of the best ziplines in Gatlinburg! As if the fun of it all weren't enough, we also offer discounts for groups of 8 people or more!
Now that you know all about one of the best ziplines in Gatlinburg: our Treetop Zipline Tour, it's time to start planning your visit! Book your zipline adventure today, and get ready for the ride of a lifetime!