Knowing the weather patterns of your vacation destination is important because then you can decide what time of the year to visit and what to pack. Oahu is absolutely gorgeous all year round with trade winds to offer a cooling breeze on sunny days, and temperatures that stay consistently warm. To help you plan for your trip, we put together a guide to the weather in Oahu all year round.
1. Average Temperatures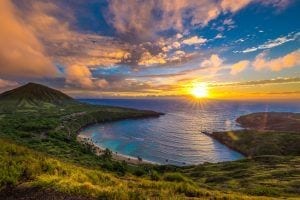 For the most part, the average temperatures in Oahu are relatively warm throughout the year. There are 2 main seasons in Oahu: summer (from May to October), and winter (from November to April). The average high temperature during the summer months is around 83°F, and the average low is about 69°F. The winter months are slightly different with the average temperature high at 78°F and the average low at around 65°F.
2. Humidity
In Oahu, the humidity tends to be at its highest in the morning and then continues to decrease throughout the day. Humidity percentages tend to stay in the 60s throughout the year, with slight increases during the winter. Climate zones, trade winds, and elevation also play a part in whether or not it feels a little muggy outside due to humidity.
3. Wind Conditions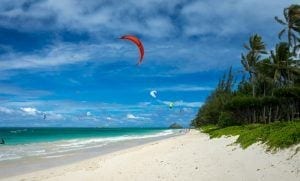 Like many other Hawaiian islands, the weather in Oahu is affected by trade winds which blow NE to ENE. They bring cool air to the islands from the north resulting in a nice breeze that can offset the humidity. Sometimes, these winds die down and stormy, rain-bearing winds proceed to blow in the opposite direction: from the SW or SSW. These Kona winds can result in the weather conditions that feel a little hotter and more humid.
4. Precipitation
Hawaii receives a little more than 17 inches of rainfall on average, every year. There's typically more rainfall in Oahu during the winter season, with an average of a little more than 2 inches every month. So, it might be a good idea to bring along the rain jacket or an umbrella if you plan on visiting during this time. Even when it rains, there are still so many fun and exciting things to do on this island, like ziplining at CLIMB Works!
About CLIMB Works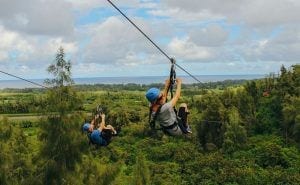 Rain or shine, there's no activity more fun than ziplining over Oahu with CLIMB Works! Your adventure will begin with an ATV ride by farms, through the jungle, and up the mountainside to the start of your tour. From there, you'll zip side by side with friends and family, travel over rappels, sky bridges, and scenic boardwalks, and encounter other surprises along the way! If thunderstorms or other extreme weather arises, our expert staff will escort you back to our main office. Then, we can discuss refunds or rescheduling your tour, depending on how far you got through it.
Now that you know a little more about the weather in Oahu, it's time to start planning your trip! Book your zipline tour with us today, and start looking forward to the ride of a lifetime!