The Island of Oahu is absolutely breathtaking! However, there are some spots that tend to stand out among the rest. While you're here, seeing one of the beautiful waterfalls should be at the top of your vacation bucket list! To help you plan for an amazing trip, here are 5 of the best hikes in Oahu with waterfalls.
1. Manoa Falls Trail
Manoa Falls Trail is a 2.6-kilometer, out and back trail near Honolulu. It winds through a tropical rainforest filled with movie scene locations from Jurassic Park and LOST! The trail is primarily used for hiking, walking, and nature trips and is accessible year-round. It's considered relatively easy in difficulty, so it's great for all skill levels. Dogs are also allowed on this trail, so you can share the experience with your furry friends! The waterfall itself cascades 150 feet down the mountainside and is worth every step to get to it. Please note that there is a small fee to park at the trailhead.
2. Waimano Falls Trail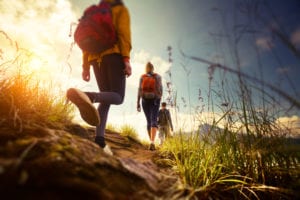 Waimano Falls Trail is a 4.5-kilometer, roundtrip hike located near Pearl City, and is rated moderate in difficulty. The trail is popular for hiking and nature trips and is accessible year-round. This gorgeous waterfall trickles down to another small waterfall that's about a hot tub sized natural pool. It then makes its way down to yet another section of falls collecting in a deeper pool. These bottom falls are excellent for cliff jumping with spots about 15 to 20 feet in the air. Just be sure to check for debris and rocks at the base of the falls beforehand.
3. Alapena Pool and Kapena Falls Trail
Another one of the best hikes in Oahu with waterfalls is the Alapena Pool and Kapena Falls Trail. This out and back trail is about 1 kilometer in length and is considered to be easy in difficulty. It's also dog friendly as long as you keep your 4 legged friends on leashes. When you reach the falls, you'll see a small, but powerful 15-foot stream with a big pool for swimming. There are even several spots that you can jump into the pool from.
4. Maunawili Falls Trail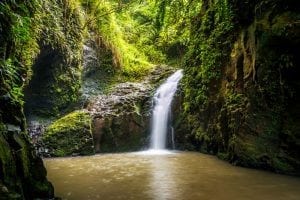 Maunawili Falls Trail is a 3.9-kilometer hike located near Kailua and is rated as moderate in difficulty. On your way to the falls, you'll be able to see spectacular views of the windward side of Oahu, Olomana, and the Koolaupoko watershed. You'll eventually reach the beautiful waterfall, where you can enjoy swimming and cliff jumping.
5. Waimea Valley Trail
The Waimea Valley Trail is a 3.1-kilometer trail located near Haleiwa and is accessible all year round! It's great for all skill levels, so the whole family can enjoy this scenic hike. Waimea Falls, also known as Waihi falls, is 45 feet high and is also one of the most accessible waterfalls in Oahu! There's a pool at the bottom of this waterfall as well that's great for swimming.
You can't go wrong with any one of these scenic hikes in Oahu with waterfalls. If you'd like to experience the beauty of this island without hiking through it, be sure to check out our zipline tours at CLIMB Works! They offer scenic views, and are fun for the whole family!