Are you craving a thrilling outdoor experience filled with rafting over rapids, soaring through the trees on a zipline or racing through the mountains on a bike? We've got the perfect adventures for you. At CLIMB Works, we've partnered with Smoky Mountain Outdoors to give you the best deal on an amazing outdoor experience of ziplining, white water rafting and mountain biking. Here are 3 reasons to book our adventure packages for your Smoky Mountain vacation:
1. Provides Ultimate Outdoor Experience
What better way to spend your Smoky Mountain vacation than in the great outdoors? Our adventure packages provide you with the ultimate outdoor experience. Not only will you get to try one of our exciting zipline tours, but you can go mountain biking and white water rafting! You can pick two adventures or try all three! Experience the Smoky Mountains in a whole new way as you zipline, raft and bike your way through.
2. Saves You Money
Who wouldn't want to try all of these amazing activities during their Smoky Mountain vacation? Instead of paying for each experience separately, booking our adventure packages will save you both time and money. Our adventure packages help you save $15-$30 per person so that everyone can enjoy time outside in the Smoky Mountains. You don't have to worry about a vacation budget holding you back from having an amazing time!
3. Create Long-Lasting Memories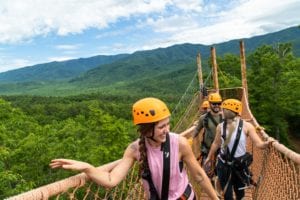 Whether you're rafting down the Pigeon River on class 3 and 4 rapids, or pedaling down our exciting mountain bike trail, you're guaranteed to have an amazing time. At CLIMB Works, we make sure everyone who visits has a positive experience. You'll make long-lasting memories that you can carry with you everywhere you go. The best part is that our adventure packages are great for families! Ziplining and white water rafting are two of the best activities to share with your family members. They both are a good way to spend quality time with one another while having a blast in the Smoky Mountains.
About the Adventures
When you book our adventure package for your Smoky Mountain vacation, you'll have your choice of 2 or 3 outdoor activities. You can soar through the trees on our Treetop Zipline Tour, or ride side-by-side with friends and family on our Mountaintop Zipline Tour. Both tours include sky bridges, an ATV ride, a fun ending, and more! If you choose mountain biking as one of your activities, you'll get to ride down the El Regis Trail and master The Curliest, a wooden, roller-coaster-esque structure. And you won't want to miss the chance to go white water rafting either! Smoky Mountain Outdoors offers incredible rafting trips. For a thrilling ride on the Pigeon River, go Upper River Rafting and coast over class 3 and 4 rapids. When you combine all 3 of these adventures, there is no stopping you from having an amazing outdoor experience.
Book your adventure package today and get ready for an amazing Smoky Mountain vacation!