At CLIMB Works, we have a mission to help get people out of their comfort zones in a safe and controlled environment. CLIMB stands for Challenge. Learn. Inspire. Master. Believe. When you go on one of our zipline tours, it will be a one-of-a-kind experience that pushes you beyond the comfortable. Find out why you should CLIMB at our ziplines in Gatlinburg:
1. Challenges You to Push Past Your Fears
Our ziplines in Gatlinburg challenge you to push past your fears to have an incredible time. Whether you're scared of heights or just being in the air, CLIMB Works encourages you to dig deep and overcome those fears in a safe and exciting way. Once you take that first step off the platform and go soaring through the trees, your fears and worries will all be a part of the past.
2. Teaches You You're Capable of More Than You Think
Both of our zipline tours teach you that you're capable of much more than you think. You will learn many things on your zipline adventure, from interesting facts about the Smoky Mountains, to important parts about the history of the Great Smoky Mountains National Park. But perhaps the most important thing you will learn is about yourself. You'll learn that you don't have to be afraid to step outside of what's comfortable, and you'll learn that you can overcome any challenge that is thrown your way.
3. Inspires You to Try New Things
One of the best parts about our ziplines in Gatlinburg is that they inspire you to try new things. In the beginning, you might be timid and afraid to be on the zipline, but by the end, chances are you'll be ziplining upside down and smiling the entire time! You'll no longer be afraid to go on new adventures and experience the world.
4. Master a Challenge
There is no greater feeling than when you complete your zipline tour because you know that you've mastered a challenge. We can often tell a difference in our guests from the start to the finish of their tour. Not only are they more confident, but they are more lively! Seeing this change is one of the most rewarding parts about working at CLIMB Works.
5. Believe in Yourself
Another great reason to zipline in Gatlinburg with CLIMB Works is because you'll end the adventure with more self-confidence. You'll believe in yourself and know that you can handle challenges that are thrown at you, whether it's overcoming a fear or pushing yourself out of your comfort zone. This will help you in all other aspects of your life as well, because with the right amount of confidence, you can do anything you set your mind to!
About Our Ziplines in Gatlinburg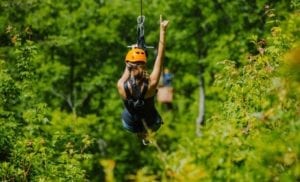 At CLIMB Works, we have two separate zipline tours for you to choose from. You can try our Treetop Zipline Tour, where you'll soar over trees, ravines and streams on 9 world-class ziplines, cross 3 sky bridges and ride an ATV up the mountain. Or, you can try our Mountaintop Zipline Tour, during which you'll soar above the mountaintop and experience higher vantage points and longer lines, cross aerial bridges, rappel of a platform and ride an ATV up the mountain! Both tours offer breathtaking views of the Smoky Mountains and provide an unforgettable experience.
Now that you know why you should CLIMB at our ziplines in Gatlinburg, it's time to plan your adventure! View our prices and book one of our zipline tours today.