When you're getting ready for your trip to the Smoky Mountains to go ziplining, it can be difficult to decide what you want to pack. We can help you out! From clothing to accessories, we've come up with a list of everything you should pack for your Smoky Mountain zipline adventure:
1. Comfortable Clothes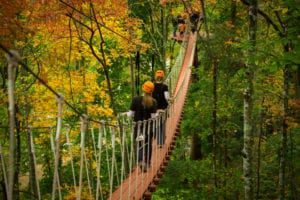 The number one thing to pack is comfortable clothing. You're going to want to be comfortable when you're soaring through the trees on 9 world-class ziplines so you can fully enjoy your experience. We recommend leaving your fancy dresses and slacks at home and sticking with T-shirts, prom dresses, leggings, jeans and gym shorts. When you go on your actual zipline adventure, wear clothes you don't mind getting wet because rain can be unpredictable!
2. Tennis Shoes
When you go ziplining, close-toed shoes are required. You can pack all your favorite sandals for other activities in the Smoky Mountains, but make sure you wear close-toed shoes when you go ziplining. We recommend tennis shoes so you'll be comfortable!
3. Camera
Don't forget to bring your camera with you on your trip! While it's only allowed with you on your zipline adventure if it's secured with a strap or something else, it will come in handy on the rest of your trip. You'll want to document your time in the Smoky Mountains and take pictures of the gorgeous scenery! If you don't have a camera, don't worry. We take photos of you while you're ziplining that you can purchase after you're done, and we also offer helmets with GoPro connectors!
4. Miscellaneous Items
There are a lot of miscellaneous items you can bring on your trip to the Smokies! For your zipline adventure, make sure you have a hair tie to pull your hair back if you have long hair. Bring a pair of sunglasses too in case the sun is shining during your trip! We allow you to wear sunglasses while you zipline, but we recommend having a strap. It's also important to pack whatever medication you need, like inhalers and epi-pens. These will be helpful not only on your zipline adventure, but for whatever activities you decide to try while you're in the mountains. Pack sunscreen too! You don't want a bad sunburn to ruin your experience in the sky.
5. Extra Money for Food and Fun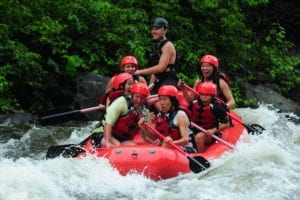 Bring a little extra cash with you on vacation! There are plenty of exciting attractions for to explore after you finish your Smoky Mountain zipline adventure. Gatlinburg and Pigeon Forge are both just a short drive away. You can go shopping and find some souvenirs to take back home, visit the Hollywood Wax Museum and get pictures with your favorite celebrities or head to Ripley's Aquarium and make friends with all the sea life! Whether you're looking for another outdoor adventure like whitewater rafting or hiking, or an exciting indoor attraction, you'll have plenty of ways to stay entertained. You're also sure to have worked up quite the appetite after you're done ziplining, so it's the perfect time to try one of the many delicious restaurants in Gatlinburg and Pigeon Forge. Tasty restaurants in the Smoky Mountains include Alamo Steakhouse, Greenbrier Restaurant, Smoky Mountain Brewery, Cherokee Grill, Big Daddy's Pizzeria, Johnny Carino's and more. No matter what you're in the mood for, you'll be able to find the perfect place to eat in the Smoky Mountains!
You'll have everything you need for a fantastic Smoky Mountain zipline adventure when you pack all of these things! Check out our list of what and what not to bring to make sure you have everything. We look forward to seeing you soon at CLIMB Works Smoky Mountains!