Not only is ziplining an incredible adventure, but it's good for your health too! Ziplining in the Smoky Mountains is good for the soul and good for the body. Join us at CLIMB Works Smoky Mountains for an activity that's both fun and healthy. Here are 6 ways ziplining in the Smoky Mountains benefits your health:
1. Reduces Stress
When you're flying high in the sky, it's just you and the great outdoors. If you've been feeling stressed lately and have a lot weighing on your mind, ziplining is the perfect cure! You'll be too focused on how much fun you're having that you won't even have time to worry about the stress of work, school, bills or anything else!
2. Adrenaline Rush
Nothing compares to the adrenaline rush you'll get when you're soaring through the air on 9 world-class ziplines. But did you know this adrenaline rush actually has some health benefits? The rush will boost your energy, increase your strength and decrease your sensitivity to pain temporarily. In addition, the adrenaline rush you get will inspire you to try other activities that might be intimidating or challenging.
3. Fresh Air
Fresh air is always good for your lungs and good for your overall health! Breathe in the fresh mountain air when you go ziplining in the Smoky Mountains. Open air environments help cleanse the toxins from your respiratory system, which will allow your body to function properly and help boost your immune system!
4. Improves Eyesight
In addition to being good for your lungs, ziplining is also good for your eyes! Because you're switching focus from the ropes in front of you to the gorgeous views in the distance, ziplining will improve your eyesight! Your eyes will be trained to focus quickly, which will in turn make your vision sharper.
5. Good for the Heart
Ziplining in the Smoky Mountains is good for the heart. And we're not just saying that — it actually has proven to decrease blood pressure, which reduces the risk for heart disease, strokes and diabetes if you are at risk! Who can say no to such a fun activity that does all this good for your body?
6. Build Stronger Relationships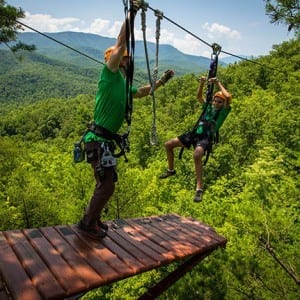 Another important benefit of ziplining is that it helps you build stronger relationships. When you share the experience with friends and family, you'll create a special bond and make memories that will last forever. It also helps you build a stronger relationship with yourself. When you finish the course, you'll have a sense of accomplishment, which will boost your self-esteem. If you're afraid of heights and overcome your fear to complete the course, you'll become more confident in yourself! Our course will challenge you to push a little outside of your comfort zone, which will inspire you to try more exciting adventures.
So what are you waiting for? Come ziplining in the Smoky Mountains for a thrilling activity that will result in you being both happy and healthy! Learn more about our zipline adventure at CLIMB Works and plan your trip today.