If you are ready for the adventure of a lifetime, check out the exciting Smoky Mountain zipline tours at CLIMB Works! While we provide all of the equipment that you need for a safe zipline experience, there are some things that you should bring along to make your adventure more enjoyable! Here are the top 5 things that you should bring with you while ziplining in Gatlinburg TN:
1. Appropriate Clothing for Weather Conditions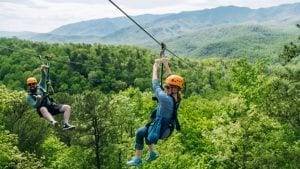 One of the most important things that you should bring while ziplining in Gatlinburg TN is appropriate clothing for the weather conditions. While it may be tempting to wear short shorts and swimsuits on a warm summer day, these clothing items are not recommended for the ziplines at CLIMB Works. Otherwise, feel free to wear any comfortable clothing as long as your clothing items are not baggy. Keep in mind that some rain can come out of nowhere quickly, so it is best to wear some clothes that you don't mind getting wet!
2. Glasses and Sunglasses
Since so much of ziplining in Gatlinburg TN is a visual experience, you should be able to see properly throughout your zipline tour! It is perfectly fine to wear your glasses on the ziplines but it is highly recommended that you use a strap. After all, having your glasses fall off down to the forest floor is a sure way to ruin your tour and we may not be able to retrieve lost items! You can also wear sunglasses with a strap to protect your eyes on those bright sunny days in the Smokies!
3. Hair Ties and Scrunchies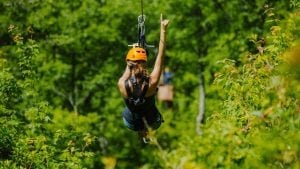 If you have long hair, be sure to bring hair ties, scrunchies or other items to pull back your hair during your zipline tour! While this is a safety precaution, you also don't want your hair flying in your face while you are zipping through the air high above the Smokies! You will want to enjoy the beautiful scenery without any distractions, and you will also want a clear view as you watch your family and friends experience each of the thrilling ziplines!
4. Necessary Medications
For those guests who take any necessary medications such as inhalers, nitroglycerine pills, or epi-pens, be sure to bring your meds with you on your zipline tour. Backpacks and fanny packs are usually not allowed on the tours, but they are permitted if you have medication. If you have any specific questions about how to carry your medication during your adventure, feel free to contact the friendly staff at CLIMB Works!
5. Desire to Have Fun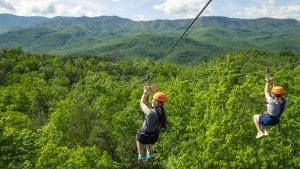 Anyone who wants to go on a zipline tour with CLIMB Works needs to bring along a desire to have fun! Our tours start with an ATV ride up the mountainside before you embark on a series of world class ziplines that you will be talking about long after your Smoky Mountain vacation is over! As if that doesn't sound exciting enough, our tours also feature sky bridges that offer the perfect opportunity to take in the breathtaking scenery!
Now that you know what to bring with you while ziplining in Gatlinburg TN, check out all of the information about our Smoky Mountain zipline tours today! We look forward to seeing you soon at CLIMB Works!