Ziplining in the Smoky Mountains is an incredible experience that just gets even better when you share it with family. If you're looking for an unforgettable group activity for your family vacation, then you've come to the right place. At CLIMB Works, we make sure your zipline adventure is a one-of-a-kind experience. Here are 5 reasons you should zipline in the Smoky Mountains on your family vacation:
1. See the Smoky Mountains Like Never Before
When you zipline in the Smoky Mountains, you and your family will get to see them like never before. There's a difference between the beautiful views you get on a family hike and the breathtaking scenery you see as you're soaring through the trees on a zipline. With two different zipline tours, you'll have your choice of adventure. Our ziplines differ in views, length and height, so you'll have the opportunity to get up close and personal with the Smokies, as well as see them from high above ground. On our Treetop Zipline Tour, you'll soar from tree to tree over streams, ravines and more! On our Mountaintop Zipline Tour, you'll soar high above the mountain top as you take in panoramic views of the mountains! With the bird's eye view of the Smoky Mountains you get on both our zipline tours, you'll easily see why we think it's one the most beautiful places on earth.
2. Create Memories that Last Forever
Family vacations are all about spending quality time together and creating memories that will last forever, and that is exactly what you will do when you go ziplining with CLIMB Works. There is nothing quite like experiencing this new adventure with your family. It's something you will all remember forever and will be talking about what an amazing time you had for years to come.
3. Share the Experience with the People You Love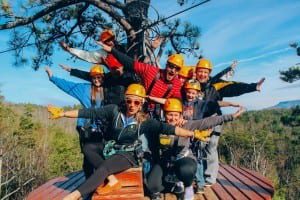 Everything's better when you get to share it with the people you love. When you zipline in the Smoky Mountains with your family by your side, the smile will never leave your face. Both of our zipline tours include more than just ziplines! You'll get to cross sky bridges, ride in an ATV to the top of the mountain and enjoy a fun ending to your adventure. Because our courses are unmatched in safety, you and your family won't have to worry about a thing except for having fun. You'll have a carefree and memorable experience.
4. Take Time to Slow Down
With the business of everyday lives, it can be difficult for families to find time to spend together and just enjoy life. Our zipline tours are the perfect way for you to reconnect with each other. At CLIMB Works, our goal is to challenge you to step outside of your comfort zone in a safe and controlled environment. If someone in your family is afraid of heights, you can work together to help them overcome it while they're in the air. Sharing the adventure with each other will automatically bring you closer together and give you plenty of opportunities to catch up and talk.
5. Learn About the National Park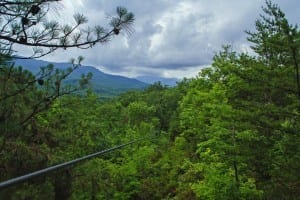 Our zipline tours are also a great opportunity to learn more about the Great Smoky Mountains National Park! Our professional guides are full of fun facts and information about the Smoky Mountains, and we also have educational plaques set up along the tours to teach you more about the most visited national park in the country. This combination of education and excitement is great for all families!
What are you waiting for? Find out more information about our zipline in the Smoky Mountains and book your trip today!