If you have always wanted to go ziplining in Gatlinburg but were nervous to try it for one reason or another, we are here to put your mind at ease! After all, there are several common myths about ziplining that may make you feel that it is a dangerous activity or that you need to be an athlete to participate. If any of these myths were true, CLIMB Works would not be the premier adventure destination in Gatlinburg! Here are 4 common myths about ziplining in Gatlinburg debunked:
1. Myth #1: Ziplining is Dangerous
While soaring through the sky while attached to a cable might sound like a dangerous activity, you are always in good hands with CLIMB Works! We have an excellent reputation for safety and our company actually started by building, inspecting, and doing safety trainings for ropes courses. When you are participating in one of our zipline tours, you will have a professional guide with you at all times who will ensure your safety from start to finish. You will not be required to hand brake or drag yourself over spans of cable, so you just need to focus on having fun while flying through the air!
2. Myth #2: Excellent Physical Condition is Required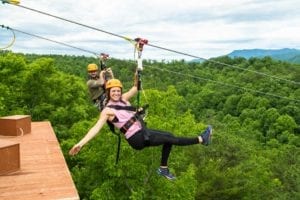 Another common myth about ziplining in Gatlinburg is that you need to be in excellent physical condition to participate. The truth is that most folks are able to participate because ziplining doesn't require any particular skill or special strength. In fact, we have had guests ranging from 7 years old to 90 years old on our zipline tours! We do recommend that you are able to stand for 2.5 hours, are able to raise your knees to your waist and are able to walk up a couple flights of stairs. The only weight restriction is a maximum weight of 270 lbs for guests 5′ 10″ and over, and a maximum weight of 250 lbs for guests under 5′ 10″.
3. Myth #3: Zipline Tours are Cancelled in the Rain
Although CLIMB Works may cancel a zipline tour due to thunderstorms, heavy rains or high winds, we DO operate in the rain! We have a rain or shine policy, so don't let any wet weather discourage you from participating in a tour. A rainy day can actually be one of the best times to go ziplining in Gatlinburg because that is when the Smoky Mountain ecosystem truly comes alive! Just remember to wear clothing that you don't mind getting a little wet!
4. Myth #4: Photographs are Strictly Forbidden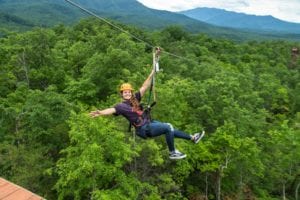 You might think that you are forbidden from taking photographs while on a zipline tour with CLIMB Works, but the truth is that you ARE allowed to take photos as long as your camera is safely secured by a strap. If you have an unsecured camera or forgot to bring one with you, there is no need to worry! We take plenty of professional photos of each participant and group along the most scenic parts of the tour. You can view these photos after the tour and purchase one to take home to remember your zipline adventure in the Smokies!
Now that you know the truth behind the myths of ziplining in Gatlinburg, learn more about our zipline tours and book your adventure today! We can't wait to see you soon at CLIMB Works!