If you thought that ziplining was strictly for adults, you will be pleasantly surprised to know that it is an exciting activity that kids can enjoy too! In fact, kids only need to be at least 7 years or older to participate in the thrilling zipline tours at CLIMB Works! While children must be at least 15 years old to zipline without an adult chaperone on the tour, kids ages 7 to 14 can still join in the fun with an adult on the tour with them! Here are the top 4 reasons to introduce your kids to ziplining in Gatlinburg TN:
1. Experience a New Adventure
One of the top reasons to introduce your kids to ziplining in Gatlinburg TN is to experience a new adventure! If your kids only seem mildly excited about your vacation plans to the Smoky Mountains, just wait until you tell them they are going on a zipline tour with CLIMB Works! Our two world class zipline tours are situated directly across from the Great Smoky Mountains National Park and features some of the most thrilling ziplines on the planet! Let's just say that you won't have to worry about your kids getting bored on your vacation.
2. Bragging Rights to Friends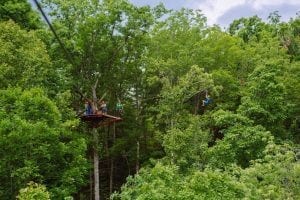 While it may not be polite to brag, we feel that your kids have earned that opportunity after ziplining in Gatlinburg TN with CLIMB Works! Just wait until they get back home to tell their friends about their adventure in Gatlinburg and how they soared through the air like an eagle! If your kids need proof of their bravery, rest assured that our photographers will take pictures of you during your tour! These photographs are available for purchase at the end of the tour. Note that you may also bring a GoPro or camera as long as it is securely attached with a strap.
3. No Special Strength or Skills Are Required
Another reason to introduce your kids to ziplining in Gatlinburg TN is because no special strength is required to participate! It is not necessary to be in peak physical condition, so your kids should be perfectly fine as long as they can stand for 2.5 hours, lift their knees to their waist and walk up a couple flights of stairs. There are also no skills required for ziplining at CLIMB Works, as our professional guides will take care of all equipment transfers and hooking all guests up to the zip line!
4. Learn About the Smoky Mountains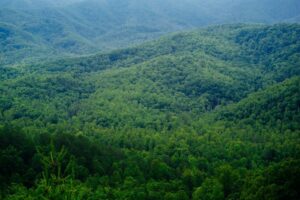 An awesome thing about ziplining in Gatlinburg TN with CLIMB Works is that it is also an educational experience for you and your kids! As you journey through our zipline tour, you will learn fascinating information about the Smoky Mountains from knowledgeable guides and educational placards. This is a great way to learn about the original inhabitants of the Smokies and to discover how the Great Smoky Mountains National Park became the most visited national park in the country!
Now that you are ready to take your kids ziplining in Gatlinburg TN, check out the zipline tours at CLIMB Works today to plan your adventure! We offer a Treetop Zipline Tour and a Mountaintop Zipline Tour, so choose one or try them both to see which one is your favorite! We look forward to seeing you soon!