CLIMB Works is one of the most popular places to go ziplining in the Smoky Mountains! We offer a world-class zipline canopy tour that'll keep you up in the trees for 2.5 hours. You'll be able to experience the Smoky Mountains like never before. To help you learn more, we've come up with 9 interesting facts about ziplining in the Smoky Mountains on our canopy tour.
1. 9 world-class ziplines
When you go ziplining at CLIMB Works, you'll get to soar through the air on 9 different world-class ziplines. The ziplines will take you over trees, ravines, streams and wildlife for a chance to see the Smoky Mountains in a way you've never seen it before!
2. Bird's Eye View
You'll be so high in the sky on the canopy tour that you'll be able to see the Smoky Mountains from a bird's eye view! All lines are different in height, length and experience, so not only will you be able to see the Smokies from above, but you'll get up close and personal with them too!
3. Includes ATV Ride
The canopy tour doesn't stop at just ziplines! You'll get to experience an ATV ride as well. The ATV ride will kick off the tour. You'll ride up the mountainside and gain 400 vertical feet over half of a mile!
4. Safety First
When you go ziplining with CLIMB Works, your safety is our number one priority. Everything from the course design and check-in process to the in-depth guide training has been meticulously thought through ensure you have a positive customer experience.
5. Motto: Always Climb
Our motto at CLIMB Works is "Always CLIMB." CLIMB stands for challenge, learn, inspire, master, believe. Our zipline tour is designed to push you out of your comfort zone a little and inspire you to be adventurous.
6. Sky Bridges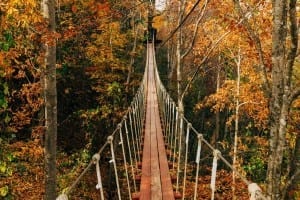 The zipline canopy tour includes 3 sky bridges! You'll be able to walk over 3 different bridges as you take in the gorgeous scenery, which makes for an amazing experience!
7. Difficulty Level
You don't have to be a pro athlete to go ziplining in the Smoky Mountains! Our level of difficulty ranges from easy to moderate. Our only recommendations are that you can stand for 2.5 hours and are able to bend your knees to your waist.
8. Surprise Ending
When you finish the canopy tour, you'll be met with a surprise ending! We can't give anything away about the ending except that we promise it'll be fun!
9. Neighbors to the Great Smoky Mountains National Park
We're right across the street from the most-visited national park in the country! We're surrounded by the Great Smoky Mountain National Park on three sides.
You won't want to miss out on the incredible experience you'll have ziplining in the Smoky Mountains at CLIMB Works. Learn more about our treetop canopy tour and start planning your adventure!