If you are looking for something a little different for a girls' day out, come on out to CLIMB Works for the adventure of a lifetime! Our thrilling ziplines offer the perfect opportunity to share some unique time together with your girlfriends! Whether you are cheering on your friends as they soar through the sky or screaming in delight as you race along on our dual ziplines, you are sure to enjoy this incredible experience! Here are the top 5 reasons why our ziplines in the Smoky Mountains are perfect for a girls' day out:
1. Unique and Fun Idea
While many girlfriends plan a day of shopping or a night at the movies, be a bit more adventurous by joining one of the zipline tours at CLIMB Works! This unique and fun idea is sure to be a hit among your friends as you create exciting new memories to last a lifetime! You will not only have the chance to experience our thrilling ziplines, but will learn more about the Smoky Mountains from our professional guides!
2. Spectacular Scenery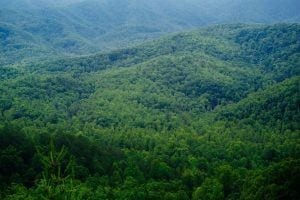 Our tours are situated just across the street from the Great Smoky Mountains National Park and offer the perfect vantage point to enjoy one of the most beautiful places on earth! Although the Smokies are breathtaking from any angle, there is nothing like the bird's eye view from our ziplines, platforms and aerial bridges! While cameras are permitted, we do require that it is securely attached with a strap. Otherwise, there is no need to worry because we will take plenty of photos during the most scenic parts of the tour! These photos are available for purchase immediately after the tour.
3. Professional Guides
If your girlfriends are a bit hesitant or nervous about experiencing our ziplines in the Smoky Mountains, you can rest assured that you are always in safe hands with our professional guides! At CLIMB Works, our top priority is always safety so our guides will be with you at all times throughout the tour. Part of the appeal of ziplining is taking you out of your comfort zone, so it is perfectly normal to be a little anxious! If you still need more convincing, just check out our safety standards to put your mind at ease!
4. Bonding Experience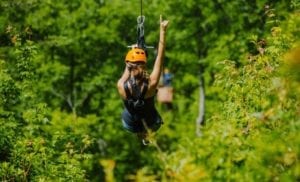 Even if you are very close to your friends already, our ziplines in the Smoky Mountains offer a bonding experience that you just won't find anywhere else! Whenever you get together in the future, you will always reflect back on your time at CLIMB Works and laugh about the good times that you spent soaring through the sky!
5. Close to Downtown Gatlinburg
If you and your girlfriends are spending a weekend in a cabin, hotel or condo in downtown Gatlinburg, you will be delighted to know that CLIMB Works is just a short drive away! Our zipline tours range from 2 to 2.5 hours, making it the perfect half-day adventure in the Smoky Mountains! This means that you will have plenty of time to enjoy a meal in downtown Gatlinburg and discuss all the fun you had on our ziplines!
Now that we have you excited for a girls' day out on our ziplines in the Smoky Mountains, check out everything you need to know to plan your visit to CLIMB Works! We look forward to providing you with a thrilling adventure that you will remember for a lifetime!