If you are looking for a unique and fun activity that your entire family will enjoy, look no further than CLIMB Works in Gatlinburg TN! Our thrilling zipline tours will bring your family together for an adventure that you will remember and cherish for a lifetime! Whether you have grandparents, teenagers or kids in your family, everyone can get into the action! Here are the top 4 reasons why our Gatlinburg ziplines are perfect for family bonding:
1. Create Shared Memories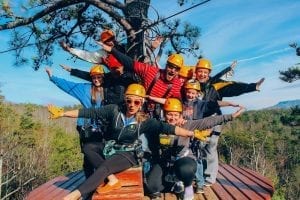 One of the top reasons why our Gatlinburg ziplines are perfect for family bonding is because of the memories that you get to share! After you go ziplining on our MountainTop or TreeTop Zipline Tours, you will always have special moments and exciting stories to share with each other! Whether you laugh about your Mom's screams of delight as she soars through the air or the look of excitement on your child's face as they experience a zipline for the first time, you will always remember your fun time at CLIMB Works! You might even find a new family tradition as you return to our Gatlinburg ziplines year after year to experience the adventure!
2. Fun for the Entire Family
It can often be tough to find an activity that everyone in your family will enjoy, but that is exactly what you will find at CLIMB Works! After all, there is nothing quite like flying through the sky above the gorgeous scenery of the Great Smoky Mountains! Our only restrictions are that children must be at least 7 years old to participate, and they may be required to ride tandem with a guide or another lightweight sibling. We also recommend that guests be in moderately good health so that you can stand on your feet for 3 hours and be comfortable walking half a mile on even terrain.
3. Motivate Each Other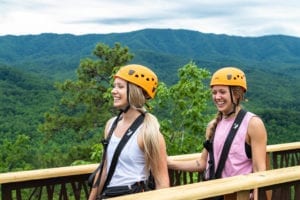 Another reason why our Gatlinburg ziplines are perfect for family bonding is because they offer the opportunity to motivate each other! If you have a family member who is nervous about trying one of our tours, you can provide encouragement to make them feel more comfortable! Part of the fun at CLIMB Works is actually getting a bit out of your comfort zone to boost your adrenaline! You can rest assured that we are completely dedicated to your safety and have an excellent reputation for safety! You can also take comfort knowing that one of our professional guides will be with you at all times throughout the tour!
4. Special Time Together
In your daily life back home, it can be difficult to get your entire family together for something as simple as dinner! This is not surprising due to the demands of a career, homework and other responsibilities that your family members face each day. When you are on vacation in Gatlinburg, come on out to CLIMB Works to spend some special time together on one of our incredible zipline tours!
Now that you know why our Gatlinburg ziplines are perfect for family bonding, learn more about our thrilling zipline tours today to plan your adventure! We hope to see your family soon at CLIMB Works!