If you have been thinking about taking a zipline tour for the first time, there is no better place to experience this thrilling activity than at CLIMB Works Keana Farms! Our ziplines are not only safe, but offer spectacular views of the North Shore that you won't see anywhere else during your vacation! Here are the top 5 reasons why our ziplines in Oahu are perfect for first timers:
1. Professional and Safe Operation
One of the primary things that makes folks nervous about trying ziplines for the first time is safety. However, you can rest assured that you are always in good hands at CLIMB Works! We have an excellent reputation for safety and have years of experience in building zip line courses around the country. Each of our trained guides have undergone extensive safety training, with ongoing training to maintain a high level of safety. Our professional guides will take care of you throughout the zipline tour and ensure all of the necessary operations!
2. Unique Side by Side Ziplines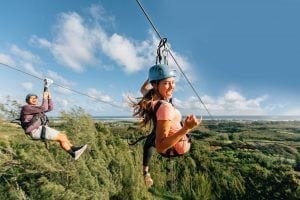 Another reason why our ziplines on Oahu are perfect for first timers is because you can zip side by side with your family members and friends! Altogether, we have 8 side by side ziplines so you can be more comfortable experiencing this adventure with someone you know! By the time you have finished your first or second zipline, you will be wondering why you waited so long to try this exciting activity!
3. No Self Braking
While traveling to different destinations, you may have seen ziplines that require the rider to use a self-braking mechanism. However, you never have to worry about that at CLIMB Works as we have an innovative braking system that will slow you down and stop when necessary! This system, known as the ZIPKEA, is the best in zip line braking and completely eliminates the need for riders to hand brake or drag themselves over spans of cable.
4. Almost Everyone Can Participate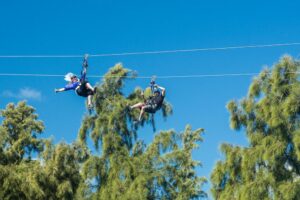 If you are hesitant to try our ziplines in Oahu because you feel you aren't in excellent physical condition, there is no need to worry! Most folks have no problems participating and there is no special strength required. While you will need to stand for awhile, walk on even platforms and climb some staircases, there are also places to sit along the tour. Our only physical restriction is that you must weigh less than 270 lbs to participate.
5. Fun Bonus Perks
For those ziplining for the first time, you can enjoy some special bonus perks at CLIMB Works! Your adventure starts right away with a 10 minute ATV ride to the top of the mountain where you will pass by farms and through the jungle. Along the tour, you will learn more about Hawaiian culture and have the opportunity to taste some delicious fresh fruit at Keana Farms! As if that doesn't sound good enough, you will also encounter rappels, sky bridges, scenic boardwalks and other surprises during your journey!
Check out all of the details about our ziplines in Oahu today to plan your zipline adventure and experience the thrill of a lifetime! We look forward to seeing you soon at CLIMB Works Keana Farms!