If you're looking for something fun to do with the kids while you're on vacation, look no further than CLIMB Works! Whether you're visiting with teens or elementary age kids, ziplining with us is something the whole family can enjoy together. To help you plan for an amazing trip, here are 5 things to know about ziplining in Oahu with kids.
1. Age Requirements
Your kids have to be at least 7 years old to participate in our zipline tour. If they are under the age of 18, then they must be at least 15 years old to zipline without having an adult accompany them on the tour. This means that kids ages 7-14 must have an adult go on the tour with them.
2. Check the Scale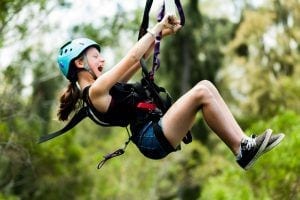 Even if your child is at least 7 years of age, they must also weigh at least 85 lbs. If they are under this weight, they can still participate, but they may be required to ride tandem with a guide or another lightweight sibling. Participants, in general, must also weigh under 270 lbs to enjoy our tour. Anyone that weighs 250 lbs or more is recommended to be in good physical condition.
3. Safety First
Don't worry, Mom and Dad! Our safety standards here at CLIMB Works are of the highest priority, and we have an excellent track record to prove it. You can relax knowing that your kids are in capable hands when they're having fun ziplining in Oahu with us! Our ziplines were created with the help of industry professionals like structural engineers and arborists to offer you the best experience possible. We have also eliminated "hand braking" for participants and put it into the hands of experts. So, there's nothing to concern yourself with other than the gorgeous views and fun features of the tour!
4. A Bird's Eye View of Oahu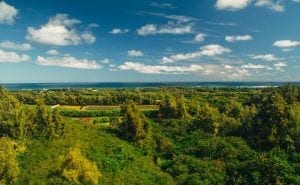 Your adventure will begin as you and your family take a 2-mile ATV ride by farms, through the jungle, and up the mountainside to the starting point for your zipline tour. From there, you can zipline side-by-side with your family as you take in the gorgeous views of the North Shore's famous beaches, farms, and lush mountains! There's no better way to experience the beauty of Oahu. You'll also encounter rappels, sky bridges, scenic boardwalks, and other fun surprises so that you can all challenge yourselves in a safe and controlled way.
5. Learn Along the Way
The kids will have a great time discovering more about Hawaii history, culture, and farming from the educational exhibits along the tour. You'll all be able to see how Hawaii has changed over the last few hundred years as you learn about Historic Hawaii, the Plantation Era, and today. If you or the kids have any other questions along the way, you can always ask your guide!
Now that you know all about what to expect when you go ziplining in Oahu with kids, it's time to start planning your getaway. Book your zipline tour today, and start looking forward to your family adventure!