If you're looking for something unique and exciting to do on your group getaway, look no further than our Oahu zipline tours! You and your party can start with an ATV ride up the mountainside to the starting point of your tour. From there, you can all zip through the treetops with breathtaking views and fun course activities. It's sure to be an experience you'll never forget! To help you plan for your getaway, here are 5 of the top reasons why groups love these tours.
1. Perfect For Every Type of Group
Whether you're visiting with a corporate group, wedding party, school group, or extended family, our Oahu zipline tours are perfect for all types of groups! The activities we offer on our tours are fun for everyone and are sure to put a smile on each and every person's face. You'll all have a great time zipping through the trees and challenging yourselves as you encounter rappels, sky bridges, scenic boardwalks, and other exciting surprises!
2. Zipline Side By Side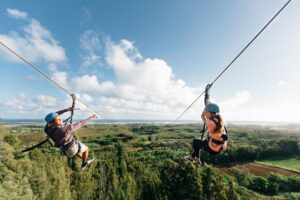 If you're a little nervous about ziplining, don't be! You'll be happy to know that you can zipline right next to the person of your choice on our Oahu zipline tours! Doing this activity with someone you know by your side will not only take those nerves away, but it will also make the experience 10 times more fun! We offer 8 side-by-side zipline runs for you and the other members of your group to enjoy.
3. Experience the Views Together
Our Oahu zipline tours start at about 410 feet above sea level, giving you the ultimate vantage point of this gorgeous island! You'll get to experience constant panoramic vistas during your zipline tour, which will include a bird's eye view of the North Shore's famous beaches, as well as lush mountains and picturesque farms. It'll be like nothing any of you have experienced before. Unless of course, you've ziplined with us previously!
4. Get Some Amazing Group Photos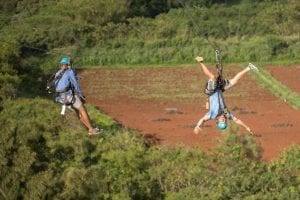 You'll all have such an amazing time when you try one of our Oahu zipline tours! So, you'll definitely want to capture a few of those incredible moments with a couple of group pictures. You are allowed to bring secured cameras, phones, and GoPros. However, we recommend leaving them all in the car and letting us handle the photos so that you don't have to worry about dropping your things. All of your pictures will be available for purchase after your tour comes to a close. This way, you can focus on having fun, and not taking pictures of everyone!
5. Fantastic Group Discounts
One of the best things about our Oahu zipline tours is that when you book a tour for a group of 10 or more, you will automatically receive 10% off! We offer even greater discounts for groups starting at 25 people. We just ask that you give us a call to schedule groups of that size. You'll all enjoy this exhilarating activity so much more knowing that you're getting the most bang for your buck.
You and your group are sure to have a fantastic time on our Oahu zipline tours! Book your zipline adventure today, and start looking forward to making some fun and exciting new memories together!