If you are searching for the ultimate zipline experience in Oahu, look no further than CLIMB Works Keana Farms! Our zipline tours not only include 8 thrilling zipline runs, but a scenic ATV ride to the top of a mountain, sky bridges, scenic boardwalks and other fun surprises! Of course, the highlight of your adventure is our ziplines, and they are the best you will find on the island! Here are the top 5 reasons why we offer the best ziplines on Oahu:
1. Zip Next to Your Family and Friends
One of the top reasons why our ziplines are considered the best ziplines on Oahu is because they offer the unique opportunity to zip side by side with your family and friends! This makes CLIMB Works an especially fun experience for those who are looking to experience a thrilling activity together during their vacation to Hawaii! Don't be afraid to laugh and scream in excitement together during your fun adventure!
2. Enjoy Gorgeous Views of the North Shore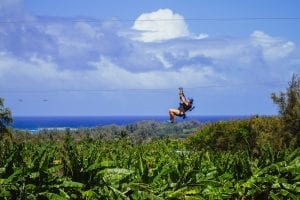 Our ziplines are specifically designed so that you can enjoy gorgeous views of the North Shore's famous beaches, as well as beautiful farms and lush mountains! While most visitors to Oahu simply drive up to view the spectacular beaches, you have the chance to experience a bird's eye view from the mountains while on our zipline tour! Your adventure begins at 410 feet above sea level, so you will constantly have panoramic views of the area!
3. Experience Ziplines of Various Lengths
Another reason why our ziplines are considered the best ziplines on Oahu is because each of our 8 lines varies in length from 500 to 2,400 feet! This means that no two ziplines are the same, which just adds to the excitement of your experience at CLIMB Works! You can rest assured that all of our ziplines are completely safe, and our trained staff will take care of you from start to finish! In fact, safety is always our top priority, so you are always in good hands during our tour!
4. Learn About Hawaii Culture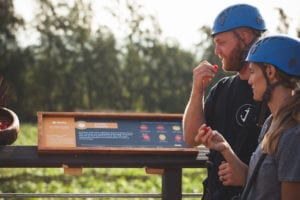 The ziplines at CLIMB Works not only offer a thrilling adventure, but the opportunity to learn more about Hawaii culture! During your zipline tour, you will discover Hawaii culture, history and farming with various educational exhibits that have been set up along the tour route. You will love learning about this fascinating information as it enhances the cultural aspect of your vacation in Oahu!
5. Photos are Available of Your Tour
The only thing better than experiencing the best ziplines on Oahu is taking home photos of your adventure as a souvenir! Our friendly staff takes plenty of fantastic photos during your journey that are available for purchase at the end of the tour. This is the perfect way to remember your exciting time at CLIMB Works!
We're not the only ones who think we have the best ziplines on Oahu — our guests think so too! We have over 2,000 positive guests reviews saying things like, "I've never had that much fun in my life," and "The best part about our trip to Hawaii." Now that you know why we offer the best ziplines on Oahu, come see for yourself what makes us so great! Learn more about what is included with our zipline tour before making your reservation. We look forward to providing you with an unforgettable experience that is sure to be a highlight of your Hawaii vacation!