After enjoying our adventure-filled zipline tour at Keana Farms, spend some time exploring the beaches of Oahu! Many beaches have strong currents in the water, making it unsuitable for swimming and snorkeling but perfect for surfing. If you want to find the best beaches in Oahu for swimming, we have them for you! Look at 6 of the best beaches in Oahu for swimming:
1. Waikiki Beach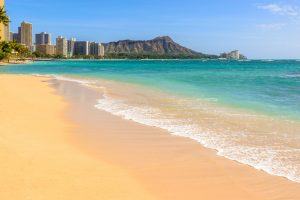 Since the 1950s, Waikiki Beach has been one of the best beaches in Oahu due to its popularity. This beach is actually comprised of many beaches strung together. Since Waikiki Beach is right along the city, you'll find a ton of places to grab a bite to eat while you're swimming in the crystal-clear blue water! There's also a ton of other activities, like canoeing, paddleboarding, and snorkeling you should check out while you're at Waikiki Beach.
2. Lanikai Beach
Looking for a beach that isn't crawling with tourists? Head to this off-the-beaten path beach named Lanikai beach. Out in the water, there's an offshore reef that prevents strong currents from invading the water, keeping the ocean near the shoreline calm and relatively safe. Parking can be limited since this beach is located between subdivisions, so be sure to get there early to take advantage of this beautiful beach!
3. Sunset Beach
Sunset Beach is one of the best beaches in Oahu for swimming during the summer months. The water is calm and a clear blue that you won't be able to believe. This beach is on the north side of the island. When winter months come, waves roll into this beach, creating strong currents that aren't ideal for swimming but are great for surfing.
4. Kailua Beach
The sandy shoreline at Kailua Beach is perfect for families and couples to spend a day swimming in the water. Kailua Beach is part of a beach park that includes areas with picnic tables, volleyball courts, restrooms, and plenty of food stands. You won't find many tourists at this beach, providing you with a private place to hang out and swim with your family and friends.
5. Pokai Beach
Want to be one of the only people at the beach during the day? Head to Pokai Beach for swimming and snorkeling. Pokai Beach is also surrounded by a reef, preventing strong currents from reaching the shoreline. It's the perfect place to get in the water, splash around, and explore the beauty of Oahu.
6. Ala Moana Beach Park
Locals love Ala Moana Beach Park that sits between Honolulu and Waikiki. An outer reef also protects the shoreline, making this beach ideal for swimming and paddleboarding. You'll even find picnic tables where you can eat a snack or a meal while you spend your day at the beach.
You'll find some of the best beaches in Oahu for swimming, snorkeling, and other outdoor activities. Watch fish swim in the clearest water you've ever seen, and have the vacation of a lifetime. For other fun things to do while you're in Oahu, check out our zipline packages we're sure you'll have a blast doing!