Experience Oahu from new heights as you zipline side by side with loved ones, and take in panoramic ocean and mountain views! This activity is fun for the whole family, and is sure to be an experience you'll never forget! To help you make the most of your trip, here are 5 things to keep in mind.
1. You Don't Need to Be in Perfect Shape
Most people, whether they're 7 or 87, will have no problem participating! Ziplining doesn't really require any special strength, and our expert staff will be with you every step of the way to make sure you have a smooth ride! You will be required to stand some of the time, walk on even platforms, and climb a couple of staircases. If you can do those things, you should be good to go! There are even places to sit along the tour if you'd like to take a minute to relax.
2. Comfort Over Style is Best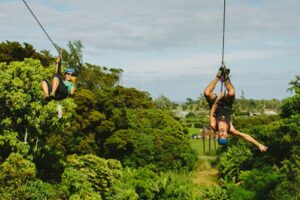 Ziplining in Oahu is so much more fun when you dress comfortably for the activity. Short shorts and skirts, as well as baggy clothes are not recommended. Since rain can come and go pretty quickly, we always suggest wearing things that you don't mind getting a little wet. Glasses and sunglasses can be worn, but it's best to have a strap on them so that you don't accidentally drop them. If you have longer hair, it's also a good idea to pull it back into a ponytail so that it doesn't get in your face when you're ziplining.
3. You Can Still Zipline in the Rain
Hawaii is known for quick bursts of rainfall, but don't worry! Our zipline tours are still available, rain or shine. However, we do not operate in thunderstorms or any other extreme weather for your own safety. We can't always predict inclement weather, but if we do encounter it along your tour, our trained staff will direct you down from one of the platforms, and take you back to our main office. Once you're there, we can talk about rescheduling and partial refunds, depending on how far you made it through the course.
4. Keep Your Valuables Safe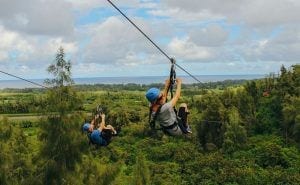 If you have any necessary medications, such as inhalers, nitroglycerine pills, or epi-pens, please bring them along. Backpacks and fanny packs are not suggested unless you are using them to carry your medications. Dangling jewelry, including long necklaces, and hoop earrings are not allowed. Unsecured items that can be dropped such as phones, keys, and water bottles are not allowed for the safety of those working or traveling under our ziplines and platforms. Often times, it's best to keep valuable items in the car or in one of our small lockers.
5. Kids Can Participate Too
All children must be at least 7 years of age to enjoy our zipline tours. If your child is 7 years old, but under 85 lbs, they can still participate. However, they may be required to ride tandem with a guide or another lightweight sibling.
Now that you know a little more about this fun activity, you're ready to go ziplining in Oahu! Start planning for your trip today, and book your zipline tour with CLIMB Works!