Oahu is full of family friendly activities that are sure to excite people of all ages, especially the kids! From exhilarating zipline tours to encounters with the amazing wildlife that resides here, there's something for everyone to enjoy. To help you plan for your trip, here are 5 of the best things to do in Oahu with kids.
1. Ziplining at CLIMB Works
The kids will absolutely love ziplining at CLIMB Works! Your adventure will start with an ATV ride to the ridgetop. From there, you'll soar over a working agricultural farm with panoramic ocean and mountain views. All the while, you'll be side by side with friends and family on one of 8 world-class dual ziplines. You'll also encounter 2 rappels, 3 sky bridges, and other fun surprises along your tour. Please keep in mind that kids have to be at least 7 years old to zipline.
2. Experience the Polynesian Cultural Center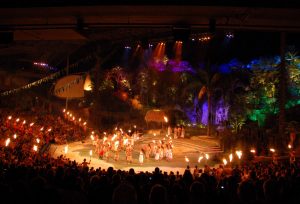 Visit authentic villages and mingle with natives from 6 Pacific cultures at the Polynesian Cultural Center. There is also a luau and dinner where you can enjoy a delicious spread of island and mainland dishes. Later in the evening, you can all kick back and watch a captivating show filled with singing and dancing by over 100 performers! The best part is that you can combine this experience with a ziplining tour from CLIMB Works to create a fantastic package deal!
3. Snorkel at Hanauma Bay State Park
You and your family can see turtles, live coral, and colorful, tropical fish in the crystal clear water at Hanauma Bay State Park. This protected marine habitat is the perfect place to go snorkeling with the kids. So, grab your swimsuit and the underwater camera because you'll want to capture all the special moments your family makes at this gorgeous state park.
4. Stop By the Honolulu Zoo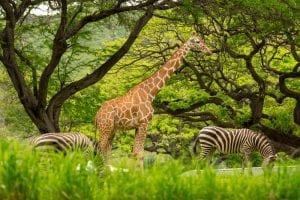 Another one of the best things to do in Oahu with kids is to visit all of the amazing animals at the Honolulu Zoo! You can easily spend an entire afternoon wandering these beautifully landscaped grounds and discovering new animal friends. This facility also allows guests to bring their own snacks and drinks to enjoy during their visit. Just remember not to feed the animals your human food!
5. Explore the Dole Plantation
Learn about how pineapples are grown and wander around in the world's largest maze at the Dole Plantation! If you aren't sure where to go first at this attraction, you and the kids can hop on the Pineapple Express for a 20-minute guided tour of the grounds. If the kids start to get hungry, you can even stop by the Plantation Grille for a tasty bite to eat. Don't forget to top off your meal with their world-famous Dole whip for dessert!
As you can tell, there are tons of exciting things to do in Oahu with kids! So what are you waiting for? Book your zipline tour today and start planning the ultimate island getaway with your family!