If you are shopping for that perfect gift for someone, CLIMB Works Keana Farms has just what you need with a Free Pass! This pass is a gift certificate that you can give to your family and friends for a complimentary zipline tour on our incredible ziplines in Oahu! Whether you are bringing your family to Hawaii on vacation or know someone who is planning a trip, this is the gift that keeps on zipping! Here are the top 3 reasons why a Free Pass to our Oahu ziplines makes the perfect gift:
1. Makes a Fun Vacation Even Better
While any vacation to Hawaii is sure to be a blast, our Oahu ziplines make a vacation even more exciting! When you purchase a Free Pass to CLIMB Works Keana Farms for your friends or relatives, they can explore one of the most beautiful places in the world! Our 3-hour guided zipline tours include Oahu's longest ziplines, which range from 500 feet to nearly half a mile long. During the tour, participants explore a working agricultural farm, zip across 8 world class dual lines, experience 3 sky bridges and enjoy a thrilling ATV adventure to the ridgetop! As if that doesn't sound good enough, the tour also includes the opportunity to learn more about Hawaii's history and culture while taking in the phenomenal views of Oahu's North Shore!
2. Motivates to Try Something New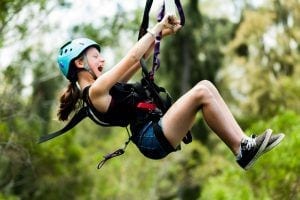 If you have a loved one who always wanted to try ziplining but needs some extra encouragement, our Free Passes provide just the motivation necessary to try this action-packed adventure! After all, with a Free Pass burning a hole in your pocket, there is no excuse not to join us on one of our tours! If your friends are still a bit hesitant, rest assured that safety is always the top priority at CLIMB Works. Throughout the tour, participants are always safely secured and trained guides handle all equipment transfers. We also use the best in zipline braking systems, the ZIPKEA, which eliminates the need for riders to "hand brake" at the end of each line!
3. Offers the Experience of a Lifetime
While you can always purchase clothing, electronics and other material items for gifts, a Free Pass to our Oahu ziplines offers the experience of a lifetime! After completing our zipline tour, you will have wonderful memories of your adventure on Oahu's North Shore! You can even bring your own camera along to take some of the most beautiful photos of your Hawaii vacation, but just remember that it has to be securely attached with a strap! If you don't have a strap, keep in mind that CLIMB Works does take photos of each participant and group from carefully selected locations along the most scenic parts of the tour. These photos are viewable and available for purchase directly after the tour!
Check out the Free Pass to our Oahu ziplines today to purchase the perfect gift for your family members and friends! We guarantee that they won't be disappointed when they experience the adventure of a lifetime at CLIMB Works Keana Farms!