When you visit our course in Hawaii you'll be on a land that lives by the word "Aloha" and you will often hear the saying, "Aloha; it's a lifestyle". In Hawaiian the word Aloha means "hello", "goodbye", and "I love you". But, there is more to it than you know! We want to share with you why it means so much to the Hawaiian culture and how you can apply it, with our motto "Always CLIMB" into your daily lives.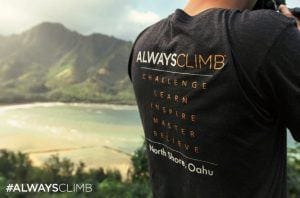 For those who have come ziplining with us, or for those who are looking to zip with us, we have a motto that we choose to live by, both at work and in our everyday lives; the motto is "Always CLIMB". We're constantly asked, "Why are you called CLIMB Works?", and it's because of that motto and what it means. The word CLIMB is actually an acronym and it stands for Challenge, Learn, Inspire, Master and Believe. All of our zipline courses, and the other outdoor adventure courses we design and build, are modeled after our motto "Always CLIMB". Our goal is to help people step out of their comfort zones, in a safe and controlled environment, so they can experience something new to help them grow, and realize they can do hard things because when you CLIMB, CLIMB works.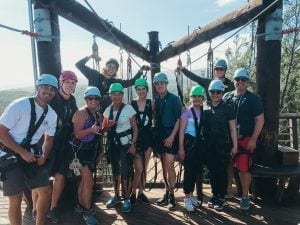 This motto when applied on and off our courses creates a sense of unity with those around you as you not only push yourselves to grow, but help and encourage others as well. We see it everyday as we take families, coworkers, newlyweds, retirees, friends, and strangers alike ziplining and watch as a group of random people become family as they share in our adventures. 
This amazing unity and friendship that occurs, amongst these groups of people, is because they're coming together in a shared experience, placing judgements aside, and experiencing CLIMB as it's meant to be. They challenge themselves to overcome fears, they learn more about each other, they find inspiration in their groups, they master obstacles and together they believe in what they can do. When CLIMB happens you can't help but become closer to each other.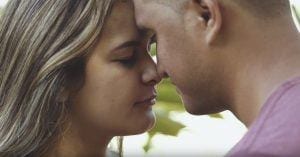 The word Aloha is significant in the Hawaiian language because it speaks of love, of greeting, of patience, of compassion and peace. Anytime you see "Ha" in a word, the significance of that is the breath of life that a person has within them. That breath of life, or the spirit that they have within them, is shared with another. In ancient Hawaii, when greeting people, you would greet them by touching foreheads and noses and breathing in each others "Ha" or "spirit of life". That was the way you would greet others, and it is still something done today in the Hawaiian culture. "Ha", that spirit, in the word "Aloha" is a greeting word and it's also to wish you well as you depart. But, from the very beginning it had a significant deep cultural meaning as people would meet and they would share with each other their "Ha", or that spirit and breath of life that everyone has within them.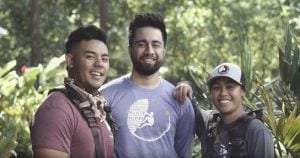 When you join "Aloha" and "Always CLIMB" together you witness a beautiful blend of seeing and treating each other with a spirit of kindness and wellness, knowing that we're each on a journey of growth. We share with each other a level of respect, for all our differences, and choose to live in such a way that we help each person as they CLIMB because we see their "Ha", or breath and spirit of life. And so we share that with you, our "Ha" to yours, our motto "Always CLIMB", and the message of how this can be lived everyday. Aloha!