Our Mountaintop Zipline Tour includes higher vantage points and longer lines than ever before. It's one of the most popular zipline tours in the Smoky Mountains, and you'll want to find out why for yourself! To help you prepare for your adventure, we've put together a guide of what to expect on our Mountaintop Zipline Tour in the Smoky Mountains:
1. ATV Ride to the Top
Your zipline adventure begins with an ATV ride up the mountainside. The ATV can hold up to 6 passengers, so your whole group can ride together! You'll gain 400 vertical feet over half of a mile, making it an exciting start to your day.
2. Side-by-Side Zipline Runs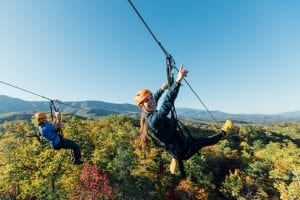 Our side-by-side zipline runs let you enjoy your zipline tour in the Smoky Mountains with the person of your choice by your side. Everything is more special when you get to share it with a friend or family member! Each platform stands high above the treetops, offering gorgeous mountain views and the opportunity for your to see the Smokies like never before.
3. 4 Sky Bridges
Along the zipline tour, you'll also get to cross 4 sky bridges high above the ground. At the end of your adventure, you will rappel from the final platform. It's the perfect time to conquer any fears you have in a safe and controlled environment. We always send everyone down at a steady and controlled speed.
4. Gorgeous Views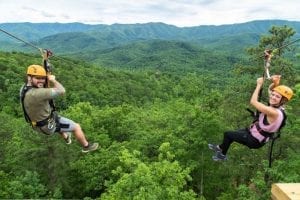 Our Mountaintop Zipline Tour in the Smoky Mountains provides unforgettable views of the Smoky Mountain area. Throughout the entire tour, you'll have panoramic views of the Smokies. We even take pictures of you along your journey so you can have a photo of yourself having fun with the gorgeous scenery in the background. We are surrounded on 3 sides by the Great Smoky Mountains National Park, so it's no surprise there are beautiful scenes everywhere you turn.
5. Information About the National Park
What's special about our zipline tour is that you get to learn more about the Smoky Mountains along the way. We'll share stories of the Smokies, from its original inhabitants to how it became as popular as it is today. It's the best way to learn about the national park while enjoying a fun adventure!
Now that you know what to expect on our zipline tour, it's time to start planning your adventure! Get more information about our Mountaintop Zipline Tour in the Smoky Mountains, and book your trip today.