To see the Smoky Mountains like you've never seen them before, you have to try the Mountaintop Zipline Tour at CLIMB Works! This zipline tour takes you to brand new heights for an incredible adventure you won't ever forget. Here are reasons why you have to try CLIMB Works' mountaintop ziplines in Gatlinburg:
1. Panoramic Views of the Smoky Mountains
Our Mountaintop Zipline Tour offers stunning 360-degree panoramic views of the Smoky Mountains! Our mountaintop ziplines in Gatlinburg allow you to zip higher and longer than you ever have before. You'll be able to see miles and miles of gorgeous scenery as you soar through the air. Our platforms stand high above the treetops, making every view along the tour unforgettable.
2. ATV Ride
You'll get to experience much more than just ziplines when you try our Mountaintop Zipline Tour. Your adventure begins with a ATV ride up the side of the mountain. You'll gain 400 vertical feet over the course of half a mile and get to enjoy the scenery along the way! It's the perfect way to start off your experience in the great outdoors.
3. Sky Bridges and More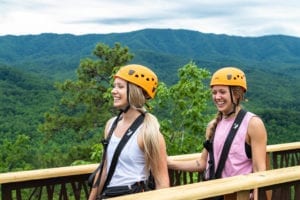 Also along our tour, you will get to cross 4 sky bridges that each offer spectacular views. This is a great way to take time to admire the beautiful sights around you! At the end of your adventure, you will even get to rappel down the final platform. Your adrenaline will be pumping on your way down, and it's an unforgettable way to end your adventure in the air!
4. Dual Ziplines
On our mountaintop ziplines in Gatlinburg, you will experience higher vantage points and longer lines than ever before. The only thing that will make your ziplining adventure better is getting to share it with someone you love — and you can do just that on our dual lines. Enjoy the experience with the person of your choice by your side! Our ziplines in Gatlinburg are unmatched in quality and safety, so you don't have a thing to worry about as you soar high in the air. Safety is our first priority, and we have trained guides who take care of all equipment transfers to hook you up to the ziplines and other parts of the course.
5. Learn About the National Park
Another great reason to try our mountaintop ziplines in Gatlinburg is because it's a great opportunity to learn more about the Great Smoky Mountains National Park! Not only will you get to see its beauty, but you can learn about it too. We are surrounded on 3 sides by the national park, so it's only right that we share a little bit about it with you during the tour. You will get to hear a variety of interesting stories of the mountains, from its original inhabitants to how it became the most visited national park in the country!
You don't want to miss the opportunity to try our mountaintop ziplines in Gatlinburg! Learn more about our Mountaintop Zipline Tour, and plan your trip today.