There's no other feeling quite like the one you'll get when you try the ziplines at CLIMB Works. Whether you are soaring from tree to tree on the Treetop Zipline Tour or taking in 360-degree views of the Smokies on the Mountaintop Zipline Tour, you're guaranteed to have a great experience! If it's your first time visiting CLIMB Works, follow these top tips for ziplining in Gatlinburg with us:
1. Dress Appropriately for the Weather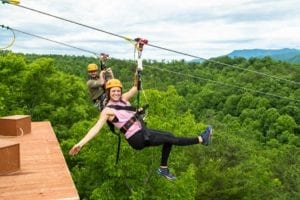 The first tip is to make sure you dress appropriately for the weather. The last thing you want is your time to be ruined because you're wearing something uncomfortable. We operate rain or shine, so make sure to wear something you don't mind getting a little wet because rain can come and go pretty quickly. We recommend that you don't wear any short shorts, dresses, skirts or baggy clothes. And make sure you're wearing closed-toed shoes. No Chacos or Five Finger shoes are acceptable.
2. Leave Valuable Items at Home
The best thing to do is to leave all of your valuable items at home. Anything that you wouldn't want to get lost, just don't bring it with you! We offer complimentary lockers to hold your keys, wallets, and other small items but everything else should be left in the car or back where you're staying. This is just to ensure you don't misplace any important items. We also do not allow you to have any unsecured items while you're ziplining. Anything that can fall out, like keys and water bottles, are not allowed on the tour. This is to guarantee the safety of those working or traveling under our ziplines and platforms.
3. Make a Reservation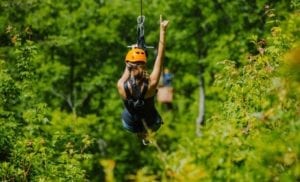 It is strongly recommended that you make a reservation for your zipline tour. You wouldn't want to build up your excitement only to get there and not be able to zipline because we're booked! We always do our best to accommodate walk-ins, but there is never a guarantee we will have enough openings. Keep in mind that during busy seasons, you should make a reservation at least 5 days in advance, and we are closed on Sundays. To make a reservation, you can book online or call us at 865-325-8116.
4. Focus on Fun
The next tip is just to focus on the fun, and with our experienced guides who accompany you on the tour, having fun is easy! We know that ziplining for the first time can be a little scary, especially if you are not a fan of heights. But you can rest easy knowing our guides are there to help you every step of the way. Each of our guides has gone through extensive safety training and are there to help you every step of the way. . Your safety is guaranteed, which means the only thing you have to think about during the tour is what a great time you're having!
5. Enjoy the Views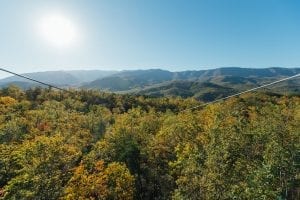 Our final tip for you is to enjoy the views. Both of our ziplines offer panoramic views of the Smoky Mountains like nothing you've ever seen before. Whether you're soaring over trees, riding an ATV up the mountainside, or crossing a sky bridge, you will have the perfect opportunities to admire the natural beauty of the Smoky Mountains. Make sure to take in all your surroundings so you remember the gorgeous scenery for years to come. We even take pictures for you throughout the tour so you can look back at this memory and smile.
Now that you know the top tips for ziplining in Gatlinburg, it's time to start planning your adventure! Book your trip today to guarantee a great experience in the Smoky Mountains.