If you always wanted to experience the adrenaline rush of ziplining but have a fear of heights, you can put your mind at ease knowing that you are always in safe hands with CLIMB Works! We not only follow and exceed all industry safety standards, but have years of professional training experience! Here are 4 ways our Smoky Mountain ziplines can actually help you to overcome your fear of heights:
1. Rationalizes Your Fear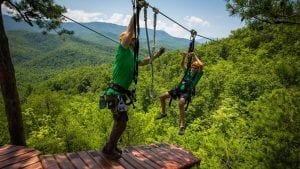 When it comes to a fear of heights, that fear is often triggered by your imagination rather than logic. Once you have developed that fear, it is easy to become anxious and forget about the safety of certain situations! When experiencing our Smoky Mountain ziplines, simply explain to yourself that there is no need to be afraid of the height and that you are extremely safe. Our professional guides will be with you at all times to handle all equipment transfers and no hand braking is required. This reassurance can really help to rationalize your fear and help you to overcome your fear of heights!
2. Forces You to Challenge Yourself
The awesome thing about the zipline tours at CLIMB Works is that they take you out of your comfort zone, in a safe and controlled environment, and force you to challenge yourself. If your fear of heights has restricted you from other outdoor activities, challenging yourself to zipline is a fantastic way to face your fears head on! It is completely normal to be a little apprehensive about heights but we have had guests of all ages join our tours! We have found that after completing the first zipline, the fear goes away quickly when you see how easy it is to zipline! Don't be surprised if you end up wanting to try both our MountainTop Zipline Tour AND our TreeTop Zipline Tour!
3. Inspires Confidence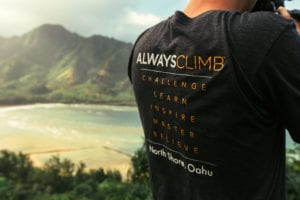 Another way that our Smoky Mountain ziplines helps you to overcome a fear of heights is by inspiring confidence! After all, the name of our company is an acronym for Challenge, Learn, Inspire, Master and Believe. These attributes all apply to your fear of heights, as we inspire you to master your fear and believe in yourself! After completing one of our zipline tours, you will feel a new level of confidence and be ready to motivate others who are nervous about ziplining! Just remember that with CLIMB Works, adventure does not mean dangerous, it just means pushing beyond the comfortable!
4. Meet Others with Similar Fears
You might be surprised to find that there are other folks on your zipline tour who are a bit apprehensive about heights! It can make you feel more comfortable that others are in the same boat as you, but yet everyone is still up for the challenge! While experiencing our Smoky Mountain ziplines, you can provide encouragement to each other and plenty of high fives after completing each of the lines! By the end of the tour, there is a good chance that you will have made some new friends!
As you can see, there is no need to be afraid of heights when ziplining with CLIMB Works! Check out our Smoky Mountain ziplines today to plan your adventure and conquer your fear of heights once and for all!