Whether you're about to go ziplining for the first time or have been before at a different location, chances are you'll have some questions. We are here to answer them and provide you with a fun, high-quality experience on our world-class zipline tours! To help you prepare for your visit, we've answered some of the top questions we've gotten about ziplining in Gatlinburg TN.
1. What Should I Bring?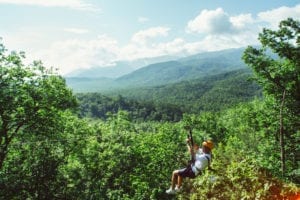 Comfortable clothes are recommended for the tour, and rain can come and go, so consider wearing something that you wouldn't mind getting a little wet. If it's cooler outside, layers are a good idea too. You will be required to wear closed-toed shoes as well. No Chacos or Five Finger shoes can be worn on the tour. Glasses and sunglasses can definitely be worn, just be sure to have a strap on them if you plan on taking them off at some point. If you have longer hair, you may also want to bring something to pull it back so that it's not in your face. Cameras and go pros are allowed on the tour, but only if it's secured somehow with a strap or something similar.
2. What Shouldn't I Bring?
We don't want you to lose anything during your visit! For this reason, unsecured items such as phones, key, water bottles are not allowed while you're ziplining. Short shorts, skirts, dresses, baggy clothes, swimsuits, and dangling jewelry are not recommended. If it comes down to it, choose comfort over style so that you can focus on having fun! We can hold onto your phone and car keys, but all other valuable items must be left in your car or at home.
3. How Good of Physical Shape Do I Need to Be In?
Ziplining is easy and doesn't require any special level of strength! Most people don't have any problems with participating, but we do recommend being able to stand for 2.5 hours and being able to lift your knees to your waist. If you are 5' 10" and over, the maximum weight is 270 lbs. If you are 5' 10" and under, the weight requirement is 250 lbs. Be sure to check out these other requirements so that you are well informed before your visit.
4. Will I Be Required to "Handbrake?"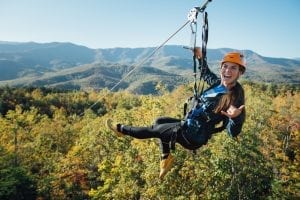 When you're ziplining in Gatlinburg TN with us, you don't have to worry about a thing! You will not be required to handbrake or drag yourself over spans on cable. Our expert staff will take care of you and all the necessary safety operations from start to finish. Rest assured that each of our trained guides has undergone thorough and extensive safety training, so you're in excellent hands! All you have to think about is having a great time!
5. What Happens if Bad Weather Occurs?
The weather can be unpredictable sometimes, but don't worry! Our staff is trained to make decisions on whether to continue. If bad weather does occur, each platform has a way to get you off safely and onto the ground. Then, we can take you back to the main office and decide on rescheduling, and refunds, depending on how far you made it through the course.
For additional questions and answers about ziplining in Gatlinburg TN, check out our FAQ page. We look forward to seeing you at CLIMB Works!