It's not hard to plan an Oahu zipline tour at CLIMB Works Keana Farms! Here are four easy steps for scheduling the ultimate adventure:
1. Put Together a Group
The first step for planning your trip to CLIMB Works Keana Farms is figuring out who is going to go ziplining with you! Our zipline tours are hugely popular with couples, families, and friends who are on vacation in Oahu, but they are also great for a variety of other groups. Some of our favorite guests have been destination wedding parties, bachelor/bachelorette parties, birthday parties, sports teams, church groups, scout troops, and co-workers looking for a team building exercise. In our experience, more is definitely merrier when it comes to ziplining, so don't hesitate to invite as many friends or family members as you like. We even offer a 10% discount for groups of 10 or more people.
If you're looking for a quick way to pitch the idea of ziplining to your pals or relatives, try sending them a link to this video of our zipline course:
2. Determine if There Are Any Restrictions
Before you book your Oahu zipline adventure, it is important to verify that everyone in your group is eligible to go ziplining. Our tour is open to guests who are at least 7 years old, and participants who are under the age of 15 need to be accompanied by an adult. Guests must be between 85 lbs and 270 lbs to ride a zipline on their own. If you are under 85 lbs but meet the age requirement, you can ride tandem with a guide or another lightweight participant.
It is recommended that guests be in moderately good health, as they will be on their feet for 3 hours and walk a half-mile on even terrain. Ziplining is not an option for people who are pregnant or those with medical conditions, injuries, or disabilities that would prevent them from completing the tour's activities. Absolutely no prior experience is needed to go ziplining at CLIMB Works since our friendly guides will teach you everything you need to know!
3. Reserve Your Zipline Tour and Transportation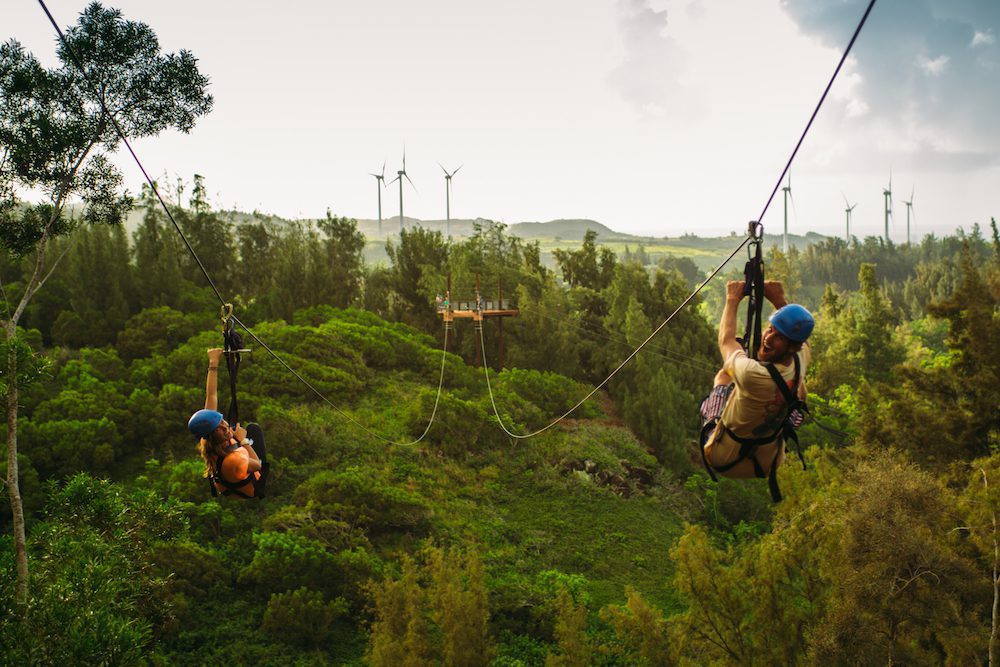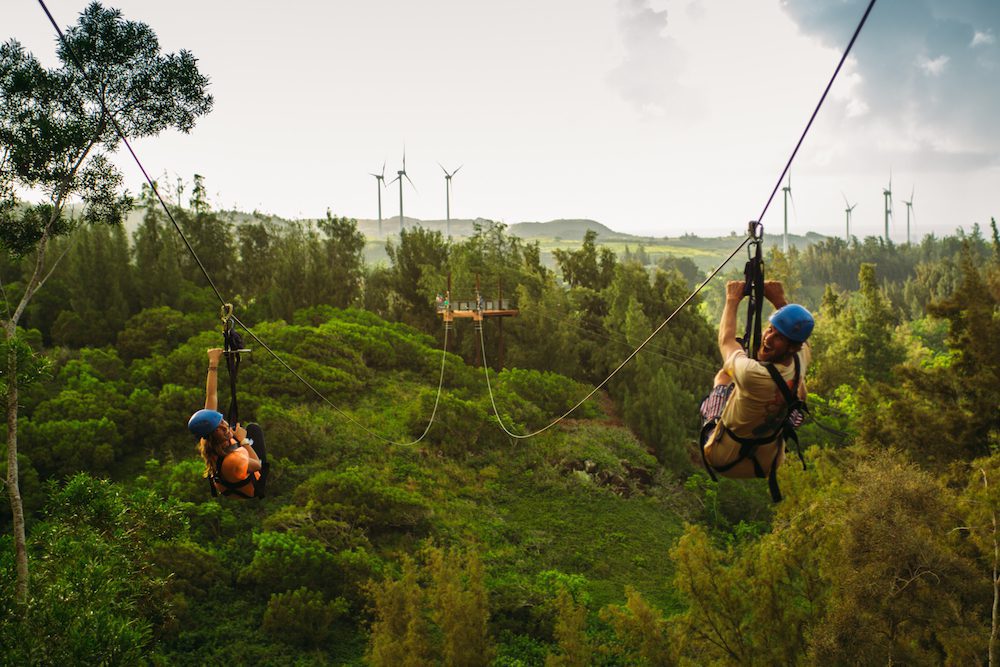 Once you've finalized the lineup of your group, it's time to schedule your Oahu zipline tour! To make your reservations, give our staff a call or book your trip online. During peak vacation season, it is recommended that groups schedule their tour at least five days in advance so they can reserve their preferred times.
If you will be staying in Waikiki during your getaway, you may want to take advantage of CLIMB Works' transportation-included package deal. For an additional $30 per participant, our air-conditioned 15-passenger shuttle will take your group from Waikiki to our zipline course on Oahu's North Shore (and back again). Pick-up is available at select hotels and our shuttle only runs for certain tours throughout the day. The drive from Waikiki to Keana Farms is typically between 1 and 1 ½ hours.
4. Come Prepared
On the day of your tour, you'll definitely want to double check that you are dressed for success and bringing the right items. Closed-toe shoes and casual clothing are both musts, while pants or shorts with zippered pockets are recommended if you're planning on ziplining with personal belongings. Sunscreen, sunglasses, a thin rain poncho (depending on the forecast), and a GoPro camera are all great things to bring. For more information, check out our in-depth guide to packing for your Oahu zipline tour!