We understand that some folks may feel nervous about joining one of our zipline tours in Oahu for the first time. However, you have absolutely no reason to worry because we have an excellent reputation for safety! You can feel confident that safety is always our first priority, so join us on an unforgettable adventure among the beauty of the North Shore! If you are still feeling a bit intimidated, check out these top 4 reasons not to be nervous about experiencing our Oahu zipline tours:
1. Trained Guides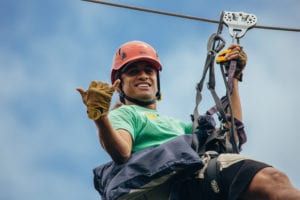 When you join one our Oahu zipline tours, you will always be in good hands throughout the tour with our trained guides! Each of the trained guides at CLIMB Works has undergone thorough and extensive safety training, ranging from basic safety techniques to advanced rescue scenarios. You never have to worry about a thing because the guides will handle all equipment transfers to hook you up to the zipline and other parts of the course.
2. Fun and Safe for First-Timers
If you have never experienced a zipline tour, you might be worried about your personal safety. However, you can rest assured that our Oahu zipline tours are perfectly safe for first-timers! The whole point of ziplining with CLIMB Works is to have a great time, so we are dedicated to making sure that you have fun during your time with us! If you are concerned about the braking aspect of ziplining, you can feel comfortable knowing that we use the best in zipline braking! This system, known as the ZIPKEA, eliminates the need for you to hand brake or drag yourself over spans of cable.
3. Secure Course Design and Equipment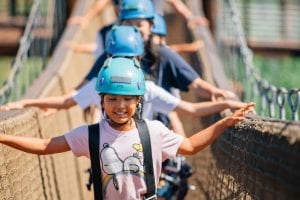 Another reason why you don't need to feel nervous about experiencing our Oahu zipline tours is because of the secure course design! CLIMB Works constructs zipline tours all over the country and has years of experience in course design, construction, training and inspection. When designing a new zipline course, we team up with structural engineers, professional arborists and other professionals in the industry. In fact, CLIMB Works leads the industry in innovative safety practices! In addition, all of our equipment complies with and exceeds industry standards, and is inspected before and after each use.
4. Rain or Shine Operations
Since Hawaii is known for quick bursts of rainfall, you might be worried that rain can impact the safety of your tour. However, our Oahu zipline tours are a rain or shine operation, so rainy weather doesn't slow us down a bit! You are still just as safe during rainy weather as you are on a sunny day. Of course, CLIMB Works does not operate during thunderstorms for the safety of our guests and our staff. In the case of sudden inclement weather where the tour cannot continue, all of the platforms have a way to get your safely off the tour, onto the ground and back to our office.
Now that you feel more comfortable about experiencing our Oahu zipline tours, make your reservation today! We look forward to providing you with a safe and fun adventure that is sure to be a highlight of your vacation.