If you are planning a honeymoon to Hawaii, you won't want to miss out on the ziplining experience at CLIMB Works Keana Farms! Our zipline tour is located on Oahu's North Shore and offers phenomenal ocean and mountain views, not to mention the adrenaline rush of soaring through the sky! Here are the top 4 reasons why you need to experience our Oahu ziplines on your honeymoon:
1. Memorable Adventure
One of the primary purposes of a honeymoon is to create new wonderful memories with your spouse, and there is no better way to do that than on the ziplines at CLIMB Works Keana Farms! With Oahu's longest ziplines ranging from 500 feet to nearly a half-mile long, our tour offers an adventure that you are sure to remember for a lifetime! You can even bring home souvenir photos of your experience, which are available immediately after the tour. These photos are taken at the most scenic spots on the tour so that you will have some awesome honeymoon pictures to display in your home!
2. Fun for Couples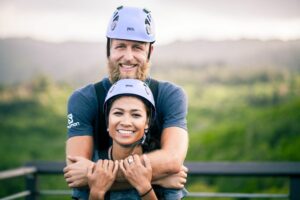 A unique aspect of our Oahu ziplines is that there are 8 side-by-side zipline runs so that you can fly through the air next to your sweetheart! This means that you can both scream in delight as you soar together high above the beauty of Oahu's North Shore! As if that doesn't sound fun enough, the zipline tours at CLIMB Works Keana Farms feature an ATV ride to the beginning of the tour, 2 rappels and several sky bridges to add to the adventure! While there are many exciting destinations awaiting you in Hawaii, we guarantee that this will be the highlight of your honeymoon!
3. Educational Experience
You will be pleasantly surprised to know that our zipline tours are also an educational experience where you can learn more about Hawaii's rich history and culture! Between each of your flights on our Oahu ziplines, you will discover Hawaii's history, culture and farming with educational exhibits that are set up along the tour. You will be able to see how Hawaii has changed over the last few hundred years so that you have a whole new perspective on Hawaii after your honeymoon is over!
4. Convenient Transportation from Honolulu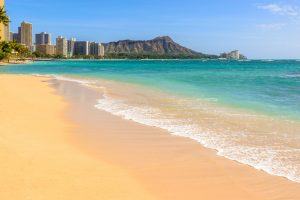 Since many couples spend the majority of their honeymoon in the Honolulu area, you will be excited to know that we offer convenient transportation from Waikiki Beach to our Oahu ziplines! The scenic drive from Honolulu to the North Shore follows along Oahu's windward coast and generally takes between 1 hour and 90 minutes depending on traffic. Even if you have your own rental car, this is the perfect way to relax and leave the driving to someone else as you kick back in a comfortable 15-passenger, air-conditioned shuttle!
Now that you know why you need to experience our Oahu ziplines on your honeymoon to Hawaii, check out all of the information about our zipline tours today to plan your adventure! We look forward to welcoming you to CLIMB Works Keana Farms!