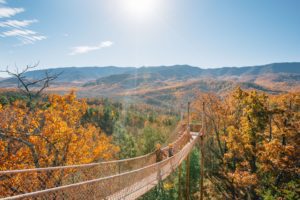 Happy Earth Day from CLIMB Works Smoky Mountains! Earth Day is an important day to celebrate and take action to protect our planet. We are very supportive at CLIMB Works of eliminating waste and doing our best to be sustainable in all we do here. One way that we can make a positive impact on the environment is by reducing our use of plastic. One of the biggest culprits when it comes to plastic waste is single-use water bottles. In fact, it's estimated that Americans alone use around 50 billion plastic water bottles each year, and only a small percentage of those are recycled.
So, what can we do to reduce our dependence on plastic water bottles? One solution is to invest in a reusable water bottle that can be used again and again, eliminating the need for single-use plastic bottles. But not all reusable water bottles are created equal. Many are made from materials that are harmful to the environment or are difficult to recycle.
That's where sustainable water bottles come in. These bottles are made from materials that are eco-friendly and can be recycled, so they have a minimal impact on the environment. By choosing a sustainable water bottle, you can help reduce your carbon footprint and make a positive impact on the planet.
At CLIMB Works, we are committed to providing sustainable water bottles that are not only good for the environment but also stylish and functional. Our Owala water bottles are made from stainless steel and BPA-free plastic, so you can feel good about using them every day.
In addition to being sustainable, our bottles also have features that make them easy and convenient to use. The Owala water bottles have triple-layered, vacuum-insulated stainless steel to keep your drink cold or hot for hours. They also have hinged loop that flips up when you need it and tucks away securely when you don't. They are easy to clean! They were designed to be quick and easy to disassemble with minimal hard-to-reach surfaces.
By choosing a sustainable water bottle, you can make a positive impact on the environment while also enjoying the benefits of a reusable water bottle. So, this Earth Day, consider making the switch to a sustainable water bottle and join us in our mission to reduce plastic waste and protect the planet.
Enjoy 25% off our custom CLIMB Works Owala 24 ounce water bottles today and tomorrow to celebrate earth day!
Offer valid 4/22/23 – 4/23/23 in store and online.