CLIMB Works Keana Farms has quickly become one of the most popular destinations for outdoor adventures in Hawaii! Therefore, it is highly recommended that you make reservations for our zipline tours as soon as you know your vacation plans! Here are the top 4 reasons why you should make reservations to experience our Oahu ziplines:
1. Best Selection of Dates and Times
When you make your reservations for CLIMB Works in advance, you have the best selection of available dates and times! We recommend that you make a reservation at least 5 days in advance, but you can reserve months in advance if you desire. This is especially important for those folks who may be visiting Oahu during the busy seasons! There are multiple tour times per day, so choose the time that works best for you. Just keep in mind that we are closed on Sundays!
2. Guaranteed Access to the Fun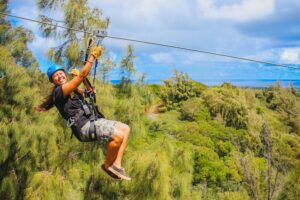 While we always do our best to accommodate walk-ins, there is never a guarantee that there will be openings. However, when you make reservations for our Oahu ziplines, you have guaranteed access to the fun! We don't even let a little rain hold us back — our tours operate rain or shine! This means that you can experience our 3-hour guided zipline tour that includes Oahu's longest ziplines ranging from 500 feet to nearly half a mile long! During your adventure, you will also enjoy 2 rappels, 3 skybrides, a fun ATV ride to the ridgetop and other surprises. You even get to learn more about Hawaii's history and culture along the way!
3. Arrange Transportation from Waikiki
Another reason why you should make reservations to experience our Oahu ziplines is so that you have time to arrange transportation from Waikiki. If you do not have a rental car, CLIMB Works is pleased to offer our zipline tour with transportation to and from select hotels in Waikiki. Since this transportation service is only offered for select tours, it is even more important to confirm your reservation in advance! During the journey along Oahu's windward coast to the North Shore, you can enjoy the beautiful scenery while riding in a 15 passenger, air-conditioned shuttle. The drive takes approximately 60 to 90 minutes depending upon traffic, so sit back and relax before setting off on your thrilling zipline tour!
4. Reasonable Cancellation Policy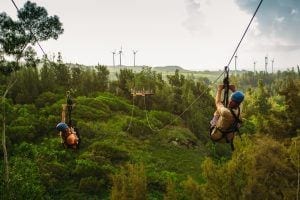 If you are nervous about making your reservations weeks in advance because your travel plans have not yet been solidified, there is no need to worry! CLIMB Works is pleased to offer a reasonable cancellation policy that is fair to our guests. We just request that you notify us as soon as possible if changes need to be made with your reservation since we may have turned away other guests for your tour time. For cancellations made at least 48 hours before your scheduled tour, you will receive a full refund or we will reschedule your visit.
Now that you know why you should make advance reservations for our Oahu ziplines, make your reservations today to experience the most thrilling adventure in Hawaii! We look forward to seeing you soon at CLIMB Works Keana Farms!