There's no denying that ziplining in the gorgeous Oahu, Hawaii is the experience of a lifetime. And when you go ziplining with us at CLIMB Works, we make sure you have nothing less than an amazing time. From side-by-side ziplines to educational exhibits, our zipline tour is one of a kind. Here are 4 reasons you don't want to miss the chance to zipline in Oahu, Hawaii:
1. Share the Experience with Someone Else
One of the best parts about ziplining in Oahu, Hawaii is that we have side-by-side zipline runs, so you get to ride next to the person of your choice! We all know that experiences are more special when you share them with someone you love, and we give you the opportunity to do just that. The lines range from 500 to 2,400 feet, and are the longest ziplines in Oahu. They also offer the perfect opportunity to race against a friend!
2. Unparalleled Views
When you zipline in Oahu, Hawaii, it will be like nothing you've ever seen before. As you soar through the air, you'll see unparalleled views of the North Shore's famous beaches, mountains and farms. Not only do you get to see the North Shore beaches by land, but you'll get to see them from a bird's eye view too! Many people who visit Oahu have to drive up to see the North Shore's beaches, but when you go ziplining, you'll get a bird's eye view from the mountains. Nothing will compare to the breathtaking views you'll have from high above the ground.
3. Experience Hawaiian Culture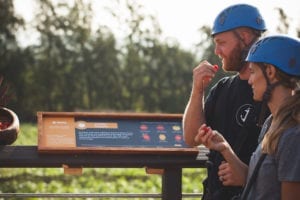 At CLIMB Works, we give you the opportunity not just to enjoy the ride, but to actually experience Hawaiian culture. Along your tour, you'll run into educational exhibits that help you learn about Hawaii history, culture and farming. We show you how Hawaii has changed over the last few hundred years, from Historic Hawaii, to the Plantation Era, to today. You'll also get to explore Keana Farms, which produces more than 1 million pounds of produce each year. You'll have the chance to see a variety of fruit along the way and even get to taste some of it!
4. More Than Just Ziplines
When you zipline in Oahu, Hawaii, you'll get to do so much more than just zipline. We want you to make the most out of your experience, which is why we include other exciting adventures in your tour. The tour starts off with a 10-minute, 2-mile ATV ride up the mountainside, during which you'll pass by farms, go through the jungle and see all the different inland landscapes that Hawaii has to offer. There will also be rappels, sky bridges and scenic boardwalks that allprovide spectacular views. But that's not all — we even include a few surprises along the way that challenge you in a safe and controlled way. You will get to enjoy this incredible adventure for 3 hours!
You don't want to miss the chance to zipline in Oahu, Hawaii. Learn all you need to know about ziplining with us, then book your adventure!